New Video Takes You Behind-The-Scenes of Waterjet Manufacturer's Operation
Jet Edge, Inc. has released a new corporate video that features a behind-the-scenes look inside its 100,000 square foot manufacturing facility in St. Michael, MN. The video includes an overview of the waterjet manufacturer's capabilities and products as well as testimonials from three Jet Edge customers from across the U.S.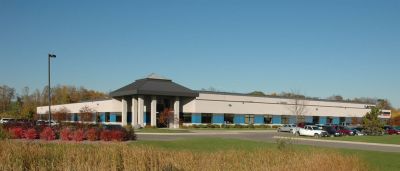 Jet Edge's 100,000 square foot headquarters in St. Michael, MN.
In the video, Jet Edge Spokesman Jeff Schibley explains how water is pressurized up to 90,000 psi to create a powerful cutting stream that can cut precise parts from virtually any material, from huge steel parts to intricate stone inlays. Because of their versatility, Jet Edge waterjets are used in nearly every industry around the world.
Jet Edge President Jude Lague discusses how Jet Edge's willingness to rapidly develop customized solutions has made it the go-to waterjet supplier during times of crisis.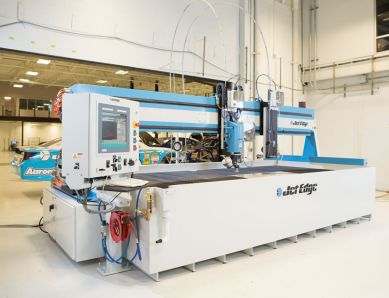 Michael Waltrip Racing recently installed Jet Edge's new EDGE X-5 5-axis waterjet. MWR cuts more than 1,000 parts for each of their Sprint Cup Cars.
"After the Gulf War, Jet Edge was called upon to help put out the oil field fires in Kuwait," Lague recalls. "By the end of the ordeal, we had cut off most of the wellheads. During the Gulf oil spill, BP contacted us about making a system that could go 5,000 feet under water. This had never been done before. We were able to accomplish that and were able to help in ending the disaster."
The video also highlights how Jet Edge customers are using waterjet technology to gain an edge on their competition and solve complex manufacturing challenges.
NASCAR's Michael Waltrip Racing uses two Jet Edge waterjet systems to cut more than 1,000 parts for its Sprint Cup teams. MWR Waterjet Operator Jeremy Vanderleest credits Jet Edge for helping MWR get design improvements to the racetrack two weeks faster and get more work done in-house.
"This saves us money and keeps our designs from being copied by the competition," Vanderleest comments.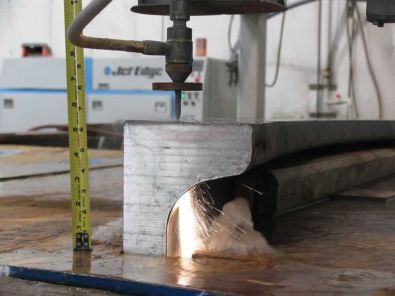 Cutting 6.5" titanium billets for Boeing at Pegasus Northwest, Inc. The material is forged into its current configuration, then waterjet cut (leaving .250" excess) and machined to its finished shape. Productivity is doubled by using two cutting heads.
Pegasus Northwest, Inc. of Kent, Wash., is an AS-9100-certified waterjet shop that is known for its tight tolerances and quick turnarounds. As a Boeing supplier, Pegasus must maintain the highest precision and accuracy standards.
"The Jet Edge systems we have here have a lot of unique features," says Dennis Pavlov of Pegasus Northwest. "My personal favorite is the main Z and the sub Z motors. It allows us to control our nozzles individually at the same time. We have the capability to tilt our heads, to pre-drill a hole and all of those features make our job a lot easier. We are very pleased with our Jet Edges. That's why we have five of them."
To watch video, click below.