ANCA Gives You "the Edge" -- A Machine That Can Erode AND Grind
ANCA has introduced its new EDGe erosion and tool grinding machine. The EDGe, with a double-ended HSK wheel spindle, has the flexibility to erode PCD (polycrystalline diamond) tools and grind carbide and HSS tools on the same machine. The versatile machine is suitable for a wide variety of tools and applications and offers manufacturers a new benchmark for cycle time and surface finish in PCD tool production.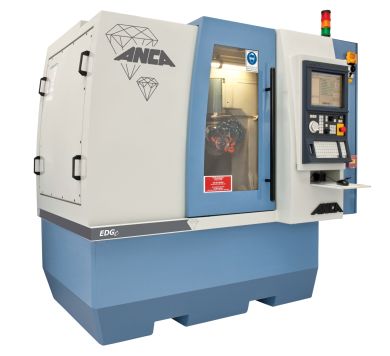 According to ANCA, new materials, such as carbon fiber reinforced plastics (CFRP) and other composites in aerospace, automotive and other industries have motivated the demand for tools of super-hard materials, such as PCD. The ability to manufacture a variety of tools (up to 220 mm or 8.66" in diameter and up to 20 kg or 44 lbs in weight) makes the EDGe ideal for customers looking to reduce the risk associated with moving into the growing PCD-side of the business.
The ANCA EDGe-Spark generator monitors and controls the energy level of every spark for optimum surface finish, material removal and cycle time for tungsten carbide, diamond or cobalt. It automatically detects the substrate and adaptively adjusts the gap distance for and provides real-time operator feedback.
Testing of tools eroded on the EDGe machine demonstrated better results for cutting force, exit burrs on CFRP, and longer drill life than are possible on ground tools. The process achieves surface finish on tools of less than 0.2 microns Ra.
ANCA's user-friendly ToolRoom software enables fast and versatile design of a wide variety of tool types and is supported by the known robust reliability of ANCA machine design. The new ToolRoom 2012 and CIM3D V7 3D simulation software provides a 30% faster simulation time and new integrated 3D graphics in iGrind. ToolRoom software also is used to adjust power generator settings.
The compact EDGe with a polymer concrete base, weighs 4500 kg (9921 lbs) and is 2160 mm (85") wide, 1530 mm (60") deep and 1990 mm (78") high. Programming resolution to 0.001 mm in the X, Y and Z axes, and to 0.001 degrees in the C and A axes assures high accuracy positioning. EDGe can use wheels to 202 mm (8").
Want more information? Click below.
Copyright © 2018 by Nelson Publishing, Inc. All rights reserved. Reproduction Prohibited.
View our terms of use and
privacy policy
::m::