Jet Edge Releases New Brochure and Video to Highlight Precision Waterjet Cutting System and Its Application for Nascar Race Team
Waterjet systems manufacturer Jet Edge, Inc. recently released a new brochure highlighting its precision water jet cutting products.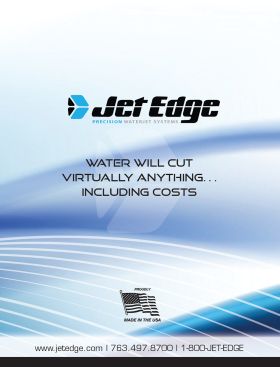 The brochure features Jet Edge's precision waterjet cutting systems and waterjet pumps as well as waterjet parts and accessories. It also highlights Jet Edge's ability and willingness to manufacture custom waterjet systems, a unique capability that has made Jet Edge a go-to manufacturer for some of the world's toughest waterjet challenges. In addition, the brochure provides an overview of waterjet's numerous applications and benefits.
Michael Waltrip Racing Waterjets More Than 1,000 Parts for its Sprint Cup Cars
NASCAR legend Michael Waltrip injects his trademark humor and master pitchman skills into a new video endorsing Jet Edge precision waterjet cutting systems.
In the video, Waltrip, a two-time Daytona 500 champion and co-owner of Michael Waltrip Racing credits Jet Edge for helping MWR become a major player in NASCAR's highly competitive Sprint Cup Series.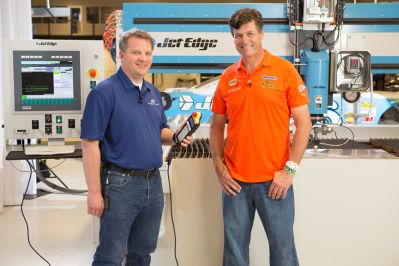 Waltrip explains that the Jet Edge waterjet has been so critical to MWR's success, they decided to add a second system. MWR Chief Technical Officer Tom German joins Waltrip in the video, providing an overview of the NASCAR team's new Jet Edge EDGE X-5 5-axis waterjet and the team's plans for its use.
MWR installed its first Jet Edge in 2008, when the new NASCAR team was struggling to get off the ground. In 2013, MWR doubled the size of its water jet shop as part of a major capital improvement project and added the new 5-axis Jet Edge to complement its existing system. MWR uses its Jet Edge waterjet systems to cut more than 1,000 parts for its three Sprint Cup teams.
Want more information? Click below.
Copyright © 2019 by Nelson Publishing, Inc. All rights reserved. Reproduction Prohibited.
View our terms of use and
privacy policy
::m::