Optimism High After Manufacturing Technology Orders, Cutting Tool Consumption, and Another Key Figure All Go Up in August
August U.S. manufacturing technology orders totaled $371.97 million according to AMT -- The Association For Manufacturing Technology. This total, as reported by companies participating in the USMTO program, was up 4.9% from July but down 18.1% when compared with the total of $454.19 million reported for August 2012. With a year-to-date total of $3,107.16 million, 2013 is down 8.0% compared with 2012.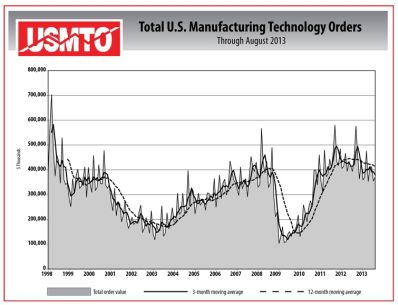 "We're finding many reasons for optimism within the manufacturing economy. In addition to the monthly gain for USMTO, the latest Purchasing Managers Index was at 56.2, its highest reading in more than two years," said Douglas K. Woods, AMT President. "Because of manufacturing's international connectivity, we also welcome the improvements seen in the global markets in Europe and Asia. These gains are expected to continue for U.S. manufacturing as we head toward 2014, but all of this hinges on avoiding a government-induced economic derailment."
U.S. Cutting Tool Consumption Up 1.3% in August
August U.S. cutting tool consumption totaled $161.7 million, according to the U.S. Cutting Tool Institute and AMT. This total, as reported by companies participating in the Cutting Tool Market Report (CTMR) collaboration, was up 1.3 percent from July's total but down 13.2 percent from August 2012. Year-to-date shipments are $1.33 billion, which is down 7.9 percent from the same period in 2012.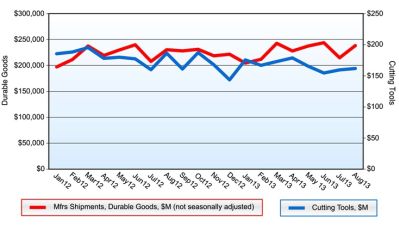 These numbers and all data in this report are based on the totals actually reported by the companies participating in the CTMR program. The totals here represent about 80 percent of the U.S. market for cutting tools.
"While U.S. manufacturing has demonstrated very modest growth through 2013, purchasing manager surveys point to a pickup heading towards 2014," said Dave Povich, President of USCTI. "Cutting tool sales statistics suffered throughout the first half of the year due to some robust sales comps from 2012. These comps should turn more neutral to positive throughout the 3rd and 4th calendar quarters."
Want more information? Click below.
Copyright © 2019 by Nelson Publishing, Inc. All rights reserved. Reproduction Prohibited.
View our terms of use and
privacy policy
::m::