Next Generation Wire EDMs Offer Versatility and Low Operating Cost
Makino introduces its latest advancements in general-purpose wire EDM technologies, the U3 and U6. Designed for ease of operation, versatility and low operating cost, the U3 and U6 are the true next-generation solution for improved profitability in wire EDM processes.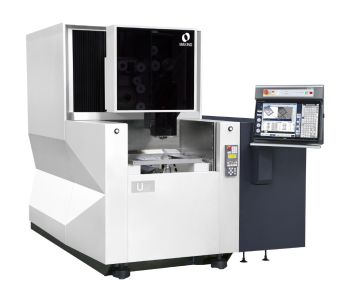 Makino's U3 Wire EDM
"The U3 and U6 offer enhanced machine performance in a design that makes competitive cycle times and high degrees of accuracy and finish easy to achieve, no matter the condition or application," said Brian Pfluger, EDM product line manager at Makino. "With the addition of our new HyperCut technology and Hyper-i control, even novice operators can program and produce leading-edge part finishes in the most complex feature geometries -- a significant competitive advantage for shops experiencing difficulty replacing skilled EDM operators."
The U3 and U6 offer X-, Y- and Z-axis travels of 370mm by 270mm by 220mm and 650mm by 450mm by 420mm respectively. The U3 will accommodate a maximum workpiece size of 770mm by 590mm by 220mm with a payload of 1,322 lbs, while the U6 holds sizes up to 1,000mm by 800mm by 400mm with a maximum payload of 3,307 lbs. Other features of the U3 and U6 include reduced wire-consumption rates, dual digitally-controlled flush pumps and a choice of two wire-guide configurations -- conventional round or Split V guide system -- to accommodate any material types and flushing conditions from 0.004" to 0.012"Ø wire (0.1~0.3mmØ). An extensive cutting condition library provides optimized conditions for standard hard brass wires, high-speed coated wires and high-taper soft wires. The depth and versatility of the entire cutting condition library ensure that all applications can be machined at optimum productive levels.
User-Friendly Design and Operation
The U3 and U6 feature an innovative design in which the entire bed casting is used as the dielectric reservoir. This design approach reduces floor-space requirements over previous models and eliminates the need for additional external fluid tanks. By merging all machine components into a single base structure, the U3 and U6 provide improved mechanical rigidity and thermal stability, and the stationary table design ensures sustainable long-term accuracy. Additionally, work-zone access has been simplified, for straightforward, ergonomic access and ease of maintenance.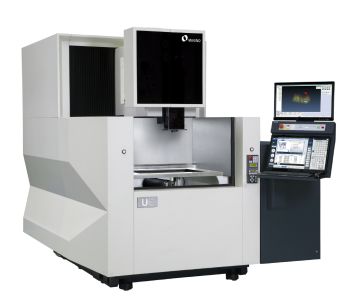 Makino's U6 Wire EDM
Both wire EDM machines are equipped with the next evolution of Makino's advanced machine control, known as Hyper-i. This control system features a user-friendly interface similar to that found on tablets and Smartphones, making operation very intuitive. A 24-inch HD touch-screen display provides many intelligent functions, including onboard electronic manuals, instructional videos and a diagnosis tool, providing operators with all of the resources necessary to remain highly productive. The Hyper-i control can also be customized to individual operators and/or for certain shifts, and an optional dual display screen can be configured for use with an onboard CAD/CAM system.
Reduced Operating Costs
With the U3 and U6, there are no special settings required to experience wire saving; every cutting condition, including sealed and poor flush applications, is automatically optimized and designed from the ground up for low wire consumption. Combined with the machines' speed and accuracy, the U3 and U6 offer the highest level of overall efficiency, throughput and low operational cost.
Makino has also developed a unique Pro-Tech circuit that provides electronic galvanic protection to the workpiece in order to prevent or minimize rusting and oxidation. This unique Makino technology is standard on the U3 and U6, and it preserves the integrity of the workpiece without the need for chemicals.
New HyperCut Technology
The U3 and U6 feature Makino's new HyperCut technology, a special three-pass process technology developed to produce surface finishes as fine as 3µm Rz in standard tool steels. This performance enhancement represents a 20 percent reduction in cycle time and 14 percent reduction in wire consumption, compared to previous technology. Together, manufacturers can expect significant saving in cost per part.
Want more information? Click below.