Siemens Gives University of Maryland the Largest Ever Software Grant -- Valued at Over $750 Million
Siemens PLM Software has given the University of Maryland the largest ever in-kind software grant, with a commercial value of more than $750 million. Siemens' product lifecycle management (PLM) software will provide UMD students and researchers with a uniquely valuable and sophisticated design and simulation tool for course work, research, academic projects and team-based competitions.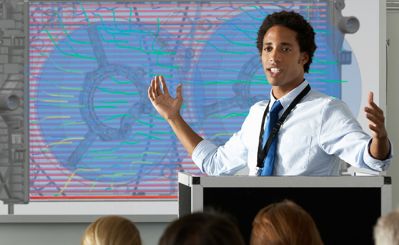 This in-kind grant from Siemens gives students and faculty access to the same technology that companies around the world depend on every day to develop and manufacture innovative products in a wide variety of industries, including automotive, aerospace, biotechnology, machinery, shipbuilding, and high-tech electronics, among others.
"We are very grateful to receive this valuable software from Siemens that will help our students develop innovative design capabilities and prepare them for advanced technology careers," said UMD President Wallace Loh.
UMD students and faculty will use the software in courses and research related to robotics design, bioengineering, space systems, product engineering, manufacturing, and systems life cycle analysis. Student groups will use the software in their efforts to compete in national and international competitions, including the Terps Racing Formula SAE and Baja teams, and teams participating in NASA's X-Hab and Lunar Wheel Design competitions.
"As product complexity continues to grow, students with PLM software experience are expected to be highly recruited. Global manufacturers need highly trained graduates to help them make smarter decisions that result in better products. This software grant enables UMD to integrate world-class PLM technology into its curriculum. The result enables students to be better prepared graduates to work in science, technology, engineering or math fields," said Chuck Grindstaff, president and CEO, Siemens PLM Software.
"Maryland is improving the climate for advanced manufacturing, as seen in the uptick in Maryland manufacturing jobs," said Maryland Secretary of Business and Economic Development Dominick Murray. "This partnership between a major corporation and the state's flagship university bodes well for continued job growth and advances in research."
"At Siemens, we believe our success is determined by our ability to anticipate and engineer the future," said Eric Spiegel, president and CEO, Siemens Corp. "This partnership provides us access to the next generation of innovators and inventors and establishes a framework for the mutually beneficial exchange of technologies, research and ideas."
Want more information? Click below.