Gun Manufacturer's Switch of End Mills Leads to 570% Improvement in Tool Life, 83% Decrease in Cost Per Part
Evolution Gun Works gained speed and efficiency by switching to Z-Carb AP end mills from SGS Tool Company. The change allowed EGW to produce 875 more parts per tool.
Evolution Gun Works (EGW) is an original equipment manufacturer (OEM) of parts for nearly all of the leading gun manufacturers in the United States. EGW President George Smith founded the company in 1991 in Quakertown, Pennsylvania -- north of Philadelphia -- after working for many years in the machining and firearms industries. Smith is an expert in the John Browning-designed .45-caliber automatic pistol dubbed the 1911 from the year of its birth.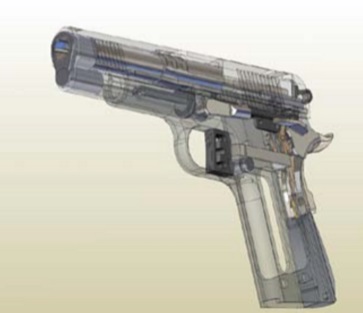 The 1911 was used by the US Military until 1985. The 1911 design is still popular today among competition shooters and enthusiasts.
Besides being on OEM supplier to domestic gun companies, EGW also manufactures its own high-end aftermarket gun components such as mounts for rifles and shotguns, barrels, recoil springs, triggers and much more. Their high-quality, precision aftermarket parts can be found in guns used by some of the top competition shooters in the country, including Doug Koenig, considered by many to be the best shooter in the world.
The Opportunity
EGW makes ejectors for the famed 1911 pistol out of tool steel. They initially used a 3/8" end mill running at 200 surface feet with .001 chip load per tooth (CLPT). Dissatisfied with the slow speed, Smith and his crew were searching for a high-performance end mill that could run faster. Initially, they found an end mill from a competitor of SGS Tool Company that screwed onto a 3/8" shank to test. The tool was able to run at 300 surface feet -- a 50 percent increase in speed.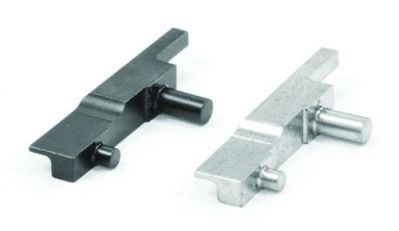 Machining Ejectors for 1911 Pistol Part Made of Tool Steel
Unfortunately, without any indication of wear, the end mill broke after only 192 pieces. "Not only would the end mill break off, the holder would be shot because the threads would rip out," said Steve Seaman, CNC department head. Besides replacing the end mill, EGW had to replace the head for $50 and spend $150 more on a new 3/8" shank. To keep from damaging the shank and head, EGW began replacing the tool after 175 pieces. Clearly, this was an improvement, but it was far from the solution Smith was looking for.
The Results
The company was then introduced to the SGS Z-Carb AP tool by Flood Tool and Supply. EGW was able to run the job at an astonishing 450 surface feet with a .0015 CLPT with absolutely no compromise in quality. The dramatic increase in speed, however, was only part of the story.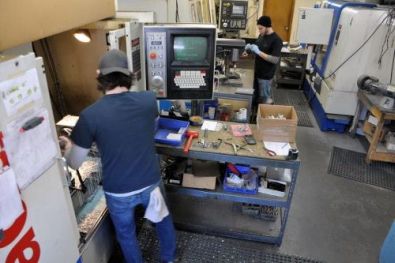 EGW was able to gain over a week and a half of capacity through cycle time and tool change time savings with the Z-Carb AP.
The SGS end mill went 1061 pieces at the higher speed before breaking. The tremendous increase in efficiency was obvious. EGW can get four full days of work out of one cutter before replacing the tool. Smith was able to gain speed and efficiency by switching to Z-Carb AP end mills from SGS Tool Company. Additionally, EGW gained confidence because of the consistency of the end mills from batch to batch. Each tool performs exactly as it is supposed to. "The speed at which you can get a job off the machine is very important, along with down time," said Smith.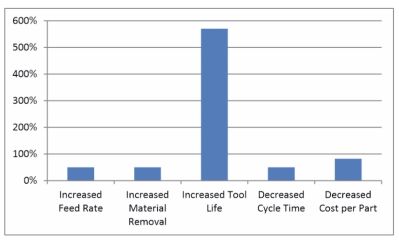 The SGS Z-Carb AP End Mill was 5.7 times more durable than its closest competitor, even when running 50% faster and providing 50% more Material Removal.
The Conclusion
SGS offered the solution that EGW was seeking. They wanted a complete High Performance answer that maximized their profitability and productivity. It was not the price of the tool that mattered, but rather the cost of machining the part. Smith summed up his assessment of SGS by stating, "It's good to see another American company selling quality products at affordable prices."
The bottom line for EGW is:
Increased Feed Rates
Increased Material Removal
Increased Tool Life
Decreased Cycle Time
Decreased Cost per Part
Additional Efficiencies with Z-Carb AP
EGW makes slide stops and thumb safeties for a large American gun manufacturer. These pieces require much more milling than a small ejector. The pin on the thumb safety is .75 inches long and .154 inches in diameter, so making it requires removing a lot of material.
Two z-Carb end mills are used to make these parts. The first is a 3/8" stub z- Carb with a .015-.020 corner radius. This tool runs at 440 surface feet at 4480 RPM and a feed rate of 28 inches per minute (IPM) and a .0015 CLPT. The tool is used to cut a slot .300" wide and .300" deep in 420 stainless steel at 32 Rockwell.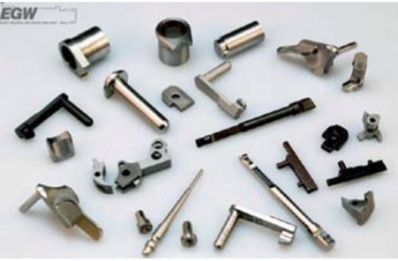 Various Components Manufactured by EGW
"I was told industry standard is 15 minutes cutting time," said Smith. "The SGS z-Carb is in the cut for 31 minutes at these depths, so even with these aggressive feeds and speeds, we're getting twice the expected cutting time."
EGW starts with two slabs of metal and gets six pieces out of one cycle. Before switching to the SGS z-Carb, the company was able to get only six or seven runs from a tool, and that was from the closest competitor. They get eight to ten runs with the SGS z-Carb. According to Seaman, most tools running at the speeds and feeds of the SGS z-Carb are toasted or broken after about four runs.
The second tool is also a 3/8" tool but with a 7/8" length of cut and a corner radius of .015-.020. This tool runs at 4200 RPM and a feed of 25 IPM, making a full-diameter slot at a depth of .300. This tool also gets about 31 minutes of cutting time, and the company has had some last 15 minutes beyond that. Both of the end mills used in these processes have the TiNAMITE-A (AITiN) high performance coating that gives the tool higher productivity and a longer life.
Want more information? Click below.