Revolutionary Fume and Dust Collector a Major Breakthrough in Clean Air Technology for Metalworking Operations
RoboVent has launched the all-new Fusion 3 Series of fume and dust collectors. The Fusion 3 is the first all-in-one, completely assembled collector designed to improve air quality while greatly simplifying installation and operation.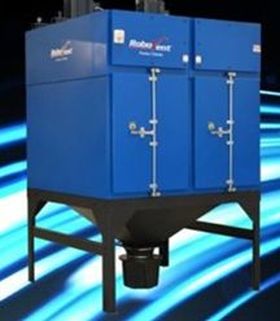 The Fusion 3 is a revolutionary collector that is completely assembled and doesn't require any additional parts or equipment to be operational. With just two simple connections -- electrical and compressed air -- the Fusion 3 is ready to go to work in the most demanding welding, cutting and metalworking operations.
The Fusion 3 is truly an all-in-one collector with a seamless integration of all the components necessary for an effective air filtration system: the cabinet, motor, blower, control panel, safety features and filters. Because the Fusion 3 is completely assembled prior to shipping, buyers skip the cost of on-site assembly and testing that is common with other collectors. The Fusion 3 is fully inspected and tested for leaks and performance prior to leaving RoboVent's facility. A fully tested and functional collector with an integrated cabinet, base and particulate containment unit eliminates installation delays and expense.
"When we set out to restructure our product platform, we didn't just want to create a new dust collector, we wanted to make a much better collector," said John Reid, president and CEO of RoboVent Product Group. "Our existing design was the benchmark in the industry, so we wanted to keep all the things that made it successful. But we knew there were things we could do to take it to the next level, to make it more capable, more powerful, yet so much simpler."
One example of RoboVent's success in building a fully integrated collector is the built-in control panel with its intuitive ePad touch screen panel. The ePad provides the ultimate control of the blower, filter differential pressure and the proprietary Dynamic Pulse cleaning system. The ePad also continuously monitors performance including diagnostic features and tracks maintenance. The Fusion 3's advanced Dynamic Pulse cleaning is a system of integrated valves with a computer-synchronized double pulse action to virtually eliminate the redeposit of dust on filters.
Want more information? Click below.
Copyright © 2019 by Nelson Publishing, Inc. All rights reserved. Reproduction Prohibited.
View our terms of use and
privacy policy
::m::