Enhanced Technology Package Improves CNC's Precision and Productivity During Milling, Moldmaking and Multi-Tasking
Siemens has optimized the high-end Sinumerik 840D sl CNC to increase machine efficiency, especially in high-speed cutting. Reliable protection against involuntary collisions is ensured by the new "Collision Avoidance" function while the new "Nodding Compensation" compile cycle ensures increased precision during workpiece machining.
Siemens has developed new functions and improved the simulation on Sinumerik 840D sl CNC, which enhances the usability and flexibility for users, particular with high-speed cutting. Regarding the Sinumerik MDynamics technology package for 3-axis and 5-axis milling applications, an integrated HSC image for high-speed cutting is provided from this point forward.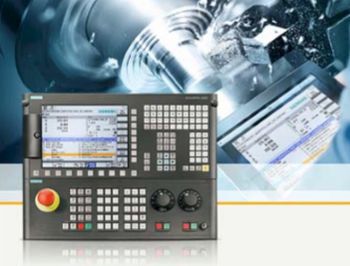 The Sinumerik Operate user interface has been enhanced even further to contribute to greater productivity.
This allows machine users to display all of the relevant information on moldmaking and motion control with Advanced Surface on one screen. Additionally, all G-Code functions for moldmaking applications, including programmed tolerances, can now be optically marked. This provides the user with a better overview and thus improves safety. The technology of the corresponding machining cycle, Cycle832, has also been further developed. The machining type can now be output as a plain text and the orientation tolerance can be entered directly in the relevant screen, which improves the overall usability for high-speed cutting.
More Reliable Protection Against Collisions
Collision Avoidance in Sinumerik prevents the collision of machine components in the working area of the machine. Collision Avoidance is concentrated on the most critical situations arising in practice -- during machine setup or in the case of interrupted machining.
Thanks to a powerful and intelligent system architecture, the 3D real-time collision monitoring function is active even with complex machining operations such as 5-axis simultaneous milling or turning with B axis. In this context, static and mobile machine components, as well as the tool cutting edge, are effectively monitored for collisions.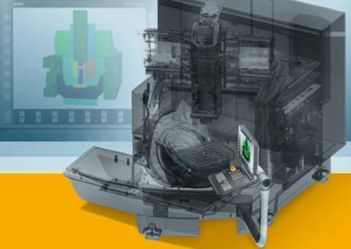 With Collision Avoidance, Sinumerik optimally protects moving components against involuntary collisions with static machine components.
The fully-fledged 3D visualization system allows users to display the complete machining process, including the machining room, on the CNC screen. This allows users to quickly and effectively identify the area subject to significant collision risk.
For collision monitoring with the workpiece, Siemens has already provided offline machine simulation in NX CAM for some time, which allows users to effectively prevent collisions when defining the relevant processes on the PC. The machine model is configured through a user-friendly definition of cuboids, balls, cylinders or the import of STL files directly via the CNC user interface.
In addition, Siemens provides a user-friendly alternative. With NX Sinumerik Collision Avoidance, machine manufacturers can quickly and conveniently read collision monitoring from the existing machine design data, simplify it, and transfer it directly to the Sinumerik CNC.
It goes without saying that Collision Avoidance in Sinumerik automatically generates the data for collision monitoring of the tool cutting edges from the tool data available for machining. This automatically includes collision monitoring with the machine component model without additional operator maintenance.
New Compile Cycle Increases Precision on the Workpiece
By adopting mechatronic optimization measures, Siemens can now react to every requirement arising in special applications, for example, in moldmaking. This has generated the "Nodding Compensation" compile cycle, which is important for gantry-type machines, where the tower can "nod" by accelerating and decelerating the other axes.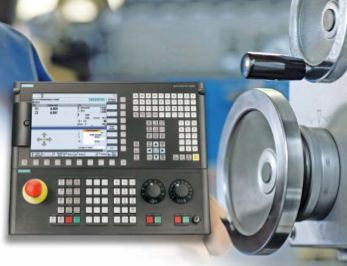 With enhanced new functionalities, the Sinumerik 828D/828D Basic CNC allows even more flexibility during machining.
This cannot be compensated by controlling the axes of the tower because these signals cannot be monitored on the motor encoder. Nevertheless, the tool tip is lowered into the workpiece where it causes marks. This is where Nodding Compensation comes into play: it monitors the other axes (e.g. Y-axis) and models the system. The acceleration processes of all axes are known. This allows users to predict the nodding and compensate it accordingly, as is the case with feed forward control. In this method, Nodding Compensation enhances machining accuracy and improves surface quality. The open architecture of Sinumerik 840D sl CNC allows uses to conveniently commission the compile cycle via the Sinumerik Operate graphical user interface.
New Functionalities for Sinumerik 828D and Sinumerik 828D Basic CNCs
The Siemens Drive Technologies Division has equipped the Sinumerik 828D and Sinumerik 828D Basic CNCs with new functionalities in order to extend the range of applications of these compact CNCs and improve their usability. The Sinumerik 828D/828D Basic now controls the electronic line shaft, thus supporting the coupled movement of two axes without mechanical coupling. Therefore, the controller can be used for the first time on basic gear cutting machines. With the extended tool retraction function, tool and workpiece are reliably protected in case of a power failure. Thanks to the newly integrated function "Manual Machine", the compact CNC is optimally suited for use on repair and training machines.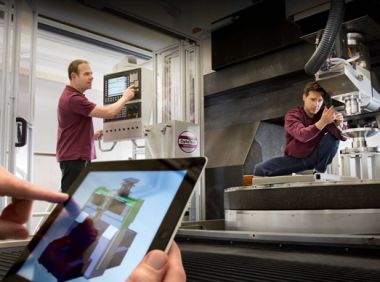 Siemens is extending its preparations for the next step in manufacturing to offer the machine tool building industry an emerging series of integrated solutions. An integrated workpiece measurement system, with a measurement accuracy of 30 nanometers deployed in the world's biggest precision optics machine, allows the production of telescopes capable of seeing up to 13 billion light years into space.
First Use on Basic Gear Cutting Machines
As a powerful compact class machine tool controller, the Sinumerik 828D/828D Basic from Siemens can now also be used for gear cutting. Due to the fact that a slave axis can now be connected to a maximum of three master axes, the controller can be used on basic gear cutting machines. If needed, extensive coupling functions are provided, which allow users to simultaneously use an electronic gearbox, polygon turning and a synchronous spindle.
Enhanced Tool and Workpiece Protection
The Sinumerik 828D / 828D Basic has been enhanced for the use in countries with unstable grid conditions: In case of a power failure, the controller stops not only the motors in a well-targeted manner using the extended retraction function, but it also retracts axes autonomously, if required, in a specific situation. This also functions with safety axes, which can be traversed at failsafe speed and safely stopped. This allows users to safely protect tools and workpieces. By performing a block search at the point of interruption, the part program is quickly resumed after restarting the machine, without having to perform time-consuming empty trips or intervene into the part program.
Enhanced Flexibility During Machining
Even during times of highly automated manufacturing, the handwheel has proven its worth when turning a blank to size, without having to create a part program. By means of the newly integrated Manual Machine function, the Sinumerik 828D/828D Basic permits the use of up to three handwheels on standard milling machines. Old machine tools with mechanical handwheels, which are still used in many factories when performing minor tasks, are then no longer required. Therefore, the Sinumerik 828D is also optimally suited for the use on repair as well as training machines.
New Features of the Sinumerik Operate Graphical User Interface
In order to ensure even more flexible and user-friendly programming, workpiece blank simulation has been supplemented by clamping, such that a table resp. rotary axis for integrating blanks on milling machines is provided. New functions are also provided by the moldmaking Quick Viewer. Therefore, the individual blocks G0/G1, as well as line points, cannot only be displayed but also hidden, which ensures even better overview.
By introducing new features, Siemens has enhanced the productivity and precision of its Sinumerik 840D sl high-end CNC.
For the program management operator area, the Sinumerik Operate graphical user interface allows integrated paperless manufacturing. During the course of further development, htm files can be consistently displayed and stored on local drives and in directories including USB and network drives. The program structure has been further optimized. In this context, sub-directories can be created and additional files such as htm displayed and stored on the NC, which could only be performed locally up until now. The new filter function facilitates the search process in the tool management, thus increasing usability.
The possibility to display the contents of Sinumerik Operate on mobile devices also allows users to visualize new functionalities on the tablet or smartphone and monitor them independently of the location. For this, the machine need only be connected to a wireless network. The mobile device shows the status of workpiece machining; the status of the tools used; as well as machine maintenance information. Tool data can also be entered via the mobile device.
Efficiency Increased Through IT Integration
The intelligent integration of IT in manufacturing systems allows users to increase the output and, at the same time, reduces costs. With the new product suite called "Sinumerik Integrate for Production", Siemens is providing a new software platform, which allows both machine tool builders and end-users the ability to increase their productivity in production and service.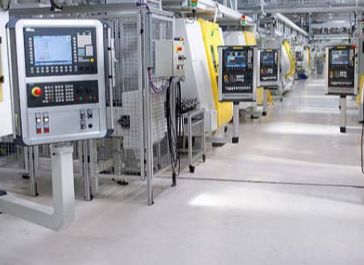 With the new "Sinumerik Integrate for Production" product suite, Siemens offers a software platform which allows both machine tool builders and end-users to increase their productivity in production and service.
Siemens has expanded vertical machine tool networking even further. Among other things, Sinumerik Integrate for Production provides answers to the questions that relate to the availability of machinery, maintenance intervals, the timeliness of the processing program or the access to geographically-distributed machines. In addition, users are supported by tool and program management, as well as the back up and importing of machine data. The product suite offers transparency when it comes to the machine's energy consumption and its stock of materials and tools.
These questions and more are answered by the software running directly on the machine tool controller. Client machines are connected to a central server that provides different applications. As the machines need be connected to the server only once and can then be flexibly extended by new functions, users benefit from convenient, low-cost commissioning and superior reliability in the future.
Another specific advantage of this approach is high system scalability. As clients can also run without networking, many functions included in Sinumerik Integrate can already be used on non-networked single machines. When using several machine tools and aiming at implementing overall optimization, additional functions are supported through networking. Users who already use engineering data management systems (PLM system) or manufacturing control systems (MES / ERP) can also connect at these levels.
Want more information? Click below.