New End Mill Minimizes Delamination By Compressing the Top and Bottom of the Component Edge
The new CoroMill® Plura compression end mill for composites from Sandvik Coromant is certain to be of great interest to any manufacturer machining carbon-fiber reinforced polymers (CFRP). Unlike conventional end milling cutters, the innovative CoroMill Plura tool combines positive and negative helix design to 'compress' the top and bottom of the component edge. This minimizes any potential for delamination, a common defect when machining CFRP and several other types of engineering composites using higher helix cutters.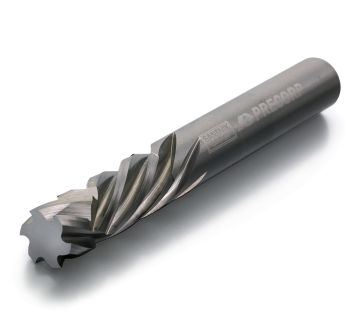 Edge Milling
The new Plura end mill has been designed for edge milling applications on workpieces with a minimum thickness of 6 mm. It features optimized micro geometry that offers six effective cutting edges for achieving a surface finish (Ra) of well below 0.0001 in. (4 µm), in combination with high material removal rates. Users should keep the split-line in the middle of the material for best results. Also, remember that when the tool cuts fibers going against the grain on the top or bottom surface there is potential for more splintering than when the tool cuts along the fiber direction.
Conventional up-milling strategies are recommended as these typically deliver less vibration. Among the cutting data users can expect to see is cutting speeds of 656-1312 ft./min. (200-400 m/min), and feed rates of 0.001-0.002 in./tooth (0.03-0.06 mm/tooth) for roughing or 0.008-0.0015 in./tooth (0.02-0.04 mm/tooth) for finishing.
Cross-Sector Appeal
Aside from the aerospace industry, other sectors set to benefit from the new end mill include motorsport, marine, wind energy and leisure -- essentially any company machining CFRP that is looking to enhance material removal rate and tool life while at the same time achieving minimal delamination of layers.
The CoroMill® Plura compression end mill for composites makes use of GC1630 grade for extended life, and comes in diameters ranging from 0.24-0.63 in. (6.0-16.0 mm), and lengths (total) from 2.99-3.94 in. (76 to 100 mm).
Want more information? Click below.
Copyright © 2019 by Nelson Publishing, Inc. All rights reserved. Reproduction Prohibited.
View our terms of use and
privacy policy
::m::