Latest Machines Designed for Turbine Blade Production and Hard Metal Aerospace Applications
Mitsui Seiki's latest metalworking machining technologies include the Vertex 550-5XB Blade Center, for the production of turbine blades; the large capacity HU100-5XL and HU100-5XLL 5- axis trunnion horizontal machining centers for hard metal aerospace, power generation, refrigeration, mold and die, and off-road equipment applications; and the VGE60A universal vertical thread grinder.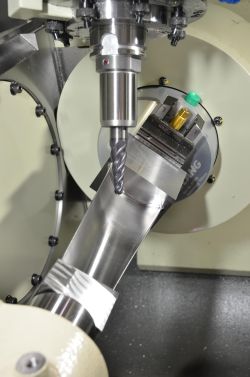 The Vertex 550-5XB produces turbine blades from forgings, castings, bar stock, or solid billets of titanium and stainless steel. Key specifications include a footprint of approximately 65 sq. ft., an X,Y, Z working envelope of 550mm x 600mm x 500mm, and rapid traverse rates in all linear axes of 48m/min. A and B axes are represented in a rotating/tilting table. A-axis tilts from +45 to -- 90 degree angles, and the B-axis features infinite positioning points. The engineering of the rotary axes offers a new, non-traditional approach, enhances manual and automatic load/unload operations, such as the integration of a robot and cellular manufacturing capability. Further, Mitsui Seiki has incorporated its proven spindle configuration in the new Vertex 550-5XB, ideally suited to cut hard titanium and stainless steel grades. It also is directed by the latest and most advanced Fanuc control system.
With Mitsui Seiki's HU100 series of machines, users can choose axis travels from 1300mm to 2500mm, 4, 5, or 6 axes of continuous motion with a choice of a rotary table, trunnion table, or table on table. There's also a variety of spindle choices, including fixed spindles from 6000 rpm (50 hp, 2000 ft./lbs. torque) for heavy milling up to 20,000 rpm for high speed applications. Tilt or swivel spindle choices are available from 6000 rpm for heavy milling up to 12,000 rpm for high speed machining. Mitsui Seiki also offers quill type spindles for precision boring with shorter tools.
Mitsui Seiki applications engineers will assist customers in selecting the optimum component choices to meet their needs and objectives now and in the future. For example, the machines can be equipped with simple pallets changers to fully integrated FMS systems for work and raw material handling. Likewise, tool handling systems range from on-board magazines to central systems for more than 2500 tools.
Want more information? Click below.