New Roll Forming Machine Allows Flange Height Change in Minutes Instead of Hours
In today's marketplace, the constantly changing metal roofing world demands innovation to allow you to adapt to fit a specific application at a lower cost. Samco has answered this challenge in the metal building component market with the Samco Purlinmaster™ roll forming machine.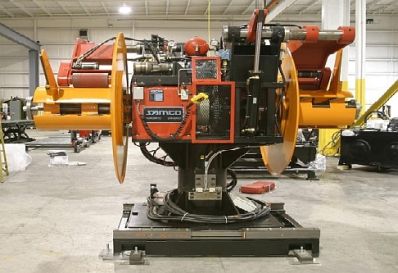 The Purlinmaster™ gives you high quality and improved punching results, and is the best choice in roll forming machines for the U-Channel, Lipped Channel, Sigma Purlins, and Z-shaped profiles (CEE Purlin and ZEE Purlin).
A Highly Adaptable Solution in Purlin Roll Forming Machines
Today's equipment and tooling offers a rapid change roll former for allowing the operator to select a flange height change in minutes (not hours), and also a web width change in an infinite range from 4" up to 16".
The equipment is made to produce purlin in pre-painted, Galvanized, and also Hot Rolled "Black" steel; all in 55 KSI minimum yield strength quality. Every line can be loaded with coil entry equipment, including uncoilers, as well as a wide range of hole punching systems for inline web and flange hole placement with high accuracy.
Roll formers come in both a 12 GA and a 10 GA model to cover the range of material types and thicknesses for any market. Even the automation of gapping the roll tooling for different thicknesses can be added so that your operator does not have to adjust the top shaft for material thickness changes.
Want more information? Click below.
Copyright © 2019 by Nelson Publishing, Inc. All rights reserved. Reproduction Prohibited.
View our terms of use and
privacy policy
::m::