Grinding Company Unites with Global Manufacturer to Give Their Competition the Shaft
United Grinding Technologies' cylindrical grinder enables Advanced Machine & Engineering Co. to add precision spindle shafts to its long list of machine tool components.
Advanced Machine & Engineering Co. is a global manufacturer and distributor of precision machine tool components and metal cutting solutions. AME's product lines include production carbide saws and blades, workholding, safety and position holding devices, as well as power drawbars and spindle interface components, and other precision machine components such as bushings, sleeves and clamping disks.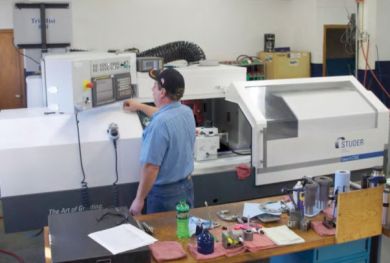 An operator programs the Studer favoritCNC. This machine, plus a Studer S40, grinds spindle shafts.
The company also designs and builds special machines for a variety of industries and provides machine rebuilding, retrofitting and contract manufacturing services. Advanced Machine & Engineering has been a supplier of machine components in the US for 48 years and is the North American pioneer in carbide sawing. AME has partners and customers around the world and across the US. One of those partners, United Grinding Technologies, recently delivered a new grinder that has quickly become a "favorite" at AME.
Spindle Shafts
"When we bought the Studer from United Grinding Technologies in 2006, we were looking at two machines: a Kellenberger and the Studer. Rumor had it that both machines were very good," says Sam Schubert, AME grinding supervisor. "However, if you bought either one you'd probably want to buy a second machine because of the commonality in controls and training issues, the ability to cross train, for example; whereas if you have a variety of machines, with a variety of different controls you tend to have operators who don't want to leave a particular machine because they're familiar with that specific control. "We had an opportunity to visit Ingersoll Cutting Tools, and they had one of each, a Kellenberger and a Studer S40. I asked the operator if he were to buy one of those machines -- and it wasn't his money -- which would he buy. The answer was quick and unequivocal: the Studer. He said this without hesitation."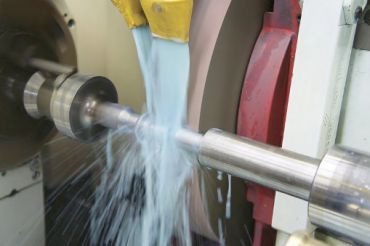 Tolerances on spindle shafts come from the bearing manufacturers. Some shafts have three, four, five, six or more diameters, plus some shoulders.
AME has recently taken delivery of a Studer favoritCNC cylindrical grinder, also to grind spindle shafts. Lately AME has been grinding an increasing number of spindle shafts, a job they hope customers will place them on their supplier short list for. They have the technology to get them there in the Studer S40 and the Studer favoritCNC. "I consider what we do to be small volume work," Schubert says. "One to five shafts, and then every once in a while a 20 to 30 piece spindle shaft order. Nothing in the hundreds. Normally the spindle shafts are 8620 carburized and hardened steel. The shafts are from 6" long to 50" long, and almost all of them are going to have OD bearing diameters that will be ground on the Studer. The shaft diameters can be straight or they can be tapered. The tolerances on the shafts come from the bearing manufacturers. If it's 100 mm diameter, we're going to be held to 0.0003" total tolerance on bearing diameters. Some shafts are going to have three, four, five, six or more diameters, plus some shoulders. Basically what we do since all of them are heat treated, is prep them, meaning we will grind the centers. Then we rough grind and grind thread diameters. What we've found is through rough grinding we take some of the tension out of the shafts, especially the longer, thinner ones.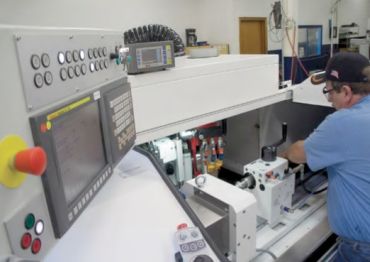 Setting the tailstock on the Studer favoritCNC.
After rough grinding, the shafts leave our department and get threaded on the lathes and possibly milled to cut keyways. Then they come back and we do our finish OD grinding, and at that time the tight tolerance ODs are going to have much less grinding stock. We will have somewhere between 0.005" and 0.010" stock on the bearing diameters for finish grind. "Whenever we steer away from our standard spindle shaft -- perhaps a 55" long stainless steel shaft, three inches in diameter and we're basically running the whole thing, multiple diameters -- although this is quite a different setup, we don't need to change wheels. Everything is the same, the same abrasives, same diamond, same coolant, so we never have to do much tear down."
The S40
Schubert says anyone who's ever had an S40 knows you can get anything on the machine you can possibly want: two OD wheels, two ID wheels, a Y-axis that allows you to install an ID spindle in a vertical orientation so that you can grind slots and keyways. It also has a C-axis for out-of-round grinding. The C-axis also provides thread grinding. It can also do spline grinding as well. The turret wheelhead can be swiveled automatically and up to four grinding wheels can be used. The S40 also has a high-resolution B-axis which allows infinite movements on angle. The gear which produces the angles is notched every 1°. The controller can automatically move in-between each 1°, so virtually any angle that you want, the head can do.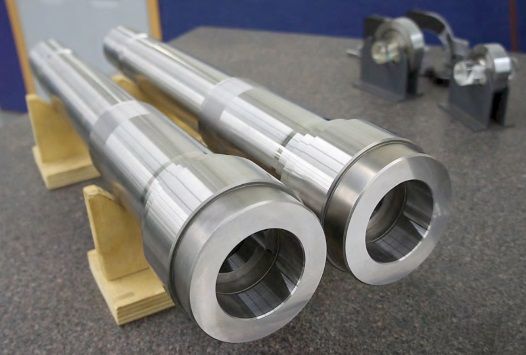 Sample of AME spindle shafts demonstrating super finishes, multiple OD diameters and thread grinding.
All that capability is truly amazing, but Schubert cautions thinking your long-term needs carefully. For example, if you're a job shop you hope the configurations you chose at the buying decision are such that the machine can handle the majority of what you do for a long period of time. You want to tool it up for the range of what you're doing currently and then hope you haven't made a mistake when a few years down the road your work starts to change, and you wish you had bigger or smaller wheel or an ID head instead of two OD heads.
"We have one large angle head and then we have what we call our secondary wheel, which is a smaller, narrower wheel, and what we found is that it works just incredibly well on chamfers, radii, getting into tight spots and reverse grinding, and we are really glad that we made the decision to have that configuration," Schubert says. "This configuration really has paid off. I can buy inexpensive conventional aluminum oxide wheels because we know we're going to do a large amount of that kind of work. Our dressers will last at least the lifetime of two wheels."
Ceramic Bands
Occasionally some of the spindle shafts will come in with diameters that include a band of ceramic that the customer uses as a seal. What AME did in the past was to do all the normal OD grinding and then send the part out for someone else to grind the ceramic, with perhaps CBN wheels. Now, however, with the Studer the operator roughs the shaft down with the big wheel, then brings the smaller wheel over, and he can hold a 4 microfinish on the ceramic with the same exact tooling that's on there to grind regular steel. "This means we don't have to send parts out, which often takes forever and costs a considerable amount," Schubert says. "It just kills us every time we have to farm parts out. If the Studer will hold the weight and the part fits between centers, we always want to be able to do all operations here. So it's huge for us not having to send parts out."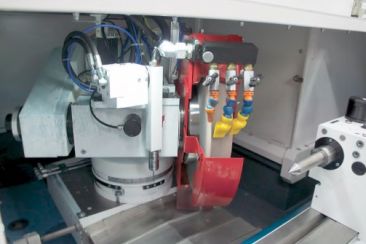 The turret wheelhead can be used for both external and internal grinding. It can be equipped with an external grinding wheel (right) and an internal grinding spindle for this purpose.
How to Measure
Schubert notes that since they acquired the Studers, for the first time they have a machine that grinds more accurately than they can check. Measuring tight tolerance OD grinding accurately is a costly process. To address this issue, they acquired master setting disks of virtually every bearing diameter size that they do.
Tooling & Air Gaging
AME grinds IDs on each shaft as well. "We OD grind the tapered tools that go inside the spindles," Schubert adds. "So we have acquired virtually every size CAT taper to grind CT tools, plus we do HSK tools. We have air gaging made by STOTZ, so we have a proven process on the diameters, on the bores, and diameters of the tools that are going in our bores. Some of these tolerances are in the millionths. The tighter tolerances are on the HSK tools, and some of the smaller ones are ±60 millionths in diameter. The industry calls these 'simultaneous fits'. Right now on my floor I have a couple of shafts with HSK 125 tapered tools. These shafts have a 14" diameter and weigh 400 pounds. The HSK in this case is going to be about four inches in diameter on the taper."
Want more information? Click below.