New Advanced Nozzle Technology Optimizes Use of Coolant Up to 2900 psi
Accurate targeting of coolant during machining provides maximum effectiveness in chip evacuation. However, precision and pressure are two equally important aspects of coolant. A high precision coolant requires lower pressure. The higher the pressure, the more demanding applications can be machined with excellent results.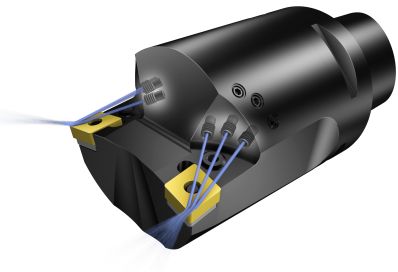 Sandvik Coromant is offering solutions through advanced nozzle technology and dedicated insert geometries for steel, stainless steel and HRSA material for all machining applications. Recently, the company announced additions to the growing range of options to apply coolant in the machining process.
The range of new insert geometries and customized tool holders feature fixed nozzles that guarantee a precise coolant jet flow accurately hitting the center of the cutting zone target.
Advanced Nozzle Technology
The coolant flows from the pump to the tool through nozzles directed exactly at the cutting zone. This produces a wedge of coolant that efficiently removes the heat from the cutting zone and forms the chip. Improved chip control and longer tool life are just two of the benefits that contribute to secure and predictable machining, preventing unplanned machine stoppages.
Increased productivity can even be achieved in tricky applications, and in difficult to machine materials, regardless of the pressure you use.
Low Pressure 7--10 bar (100--150 psi)
When using low pressure, the new Sandvik Coromant CoroTurn HP holders, with high precision nozzles, outperform regular tool holders that can have a tendency to flood coolant. This makes for improved chip control and better process security in steel and other common materials. Substantially higher cutting data can also be applied, as well.
70--80 bar (1000--1200 psi)
For demanding materials, such as duplex stainless steel and HRSA material, higher coolant pressures are needed. The unique CoroTurn HP nozzle technology in combination with the new-SMC, -MMC, -PMC insert geometries provides greater productivity.
150--200 bar (2200--2900 psi)
Few machines provide solutions for these pressures, however Sandvik Coromant offers standard holders and inserts that allow for up to 275 bar (3900 psi) of coolant pressure. Coromant Capto clamping units for high-pressure coolant with 200 bar (2900 psi) coolant pressure capability provide unrivalled performance ensuring that machine utilization is optimized through reduced set-up and production time.
Tool Holders
The Sandvik Coromant advanced cooling technology has been a solution primarily for customers using quick change with Coromant Capto®, SL- and QS holding system. Now, the same premium technology can be applied with general shank tools, making it possible for everyone working with wet machining to utilize this highly productive coolant solution, even in small lathes.
Want more information? Click below.