Vertical CNC Lathe Designed for High Productivity with Maximum 31.5" Cutting Diameter and 2000 RPM Spindle Drive
Hwacheon Machinery will be demonstrating its VT-650 vertical CNC lathe at EASTEC Booth 1034. The VT-650 with a maximum cutting diameter of 31.44" and 1500-rpm (optional 2000-rpm) spindle drive is designed for high productivity, high accuracy machining and integration into factory automation systems.
The VT-650 lathe accommodates work to 31.50" max diameter, 29.53" max length, and has X and Z feed strokes of 16.89" and 31.04" respectively. A rapid feed (X/Z) of 788/630 inch/min permits quick positioning of the tools.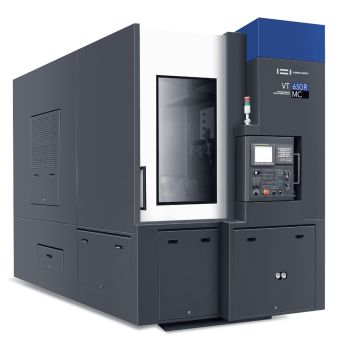 The machine also is provided with Hwacheon's Lathe Tool Load Detection System software which constantly detects and diagnoses the tool load during machining to reduce tool wear and prevent damage, optimizing tool life.
VT-650 has an integrated 45-degree angle bed frame to minimize heat distortion. The unique bed design absorbs the vibration sufficiently, to ensure high degree of precision at hard turning.
The VT-650 integrated spindle provides powerful chucking for stable, precise machining. The Hwacheon clean room assembly facility, where these super-precision, super-rigid spindles are manufactured, maintains optimal temperature and humidity, resulting in spindles that meet the toughest quality standard in the industry. All Hwacheon spindles are oil-cooled.
The geared drive system allows for high-torque turning at low speed and also high speed turning. The transmission and the spindle motor are designed separately so that the heat and the vibration generated from the transmission don't interfere with the spindle motor. Max. torque: 2420 ft-lbs.
A 12-station servo-type tool turret, offers indexing time of just 0.25 sec, helping to reduce cycle time. Turret clamping force: 13,668.66 lbf.
Want more information? Click below.