New and Unique Ideas for Processing Complex Parts to be Taught at CNC Machine Training Classes
Eurotech is offering free training this Summer and Fall. Eurotech Elite - Fanuc training will take place Aug. 6-8 in New England. Eurotech SwissTurn training will take place Nov. 12-14 in Chicago.
Classes will be taught by Eurotech's engineer, Larry Greenawalt, programming expert since 1984.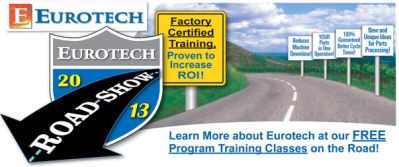 For 20 years, Eurotech has offered free lifetime training to customers as well as free engineering phone support. Thousands of CNC machinists have trained at the Eurotech College. Customers/students have come from companies such as G.E., Pitney Bowes, Parker Hannifen, Goodrich Aerospace, Honeywell, Westinghouse, Stryker, Timken, Smith Nephew, Textron, Tyco, Festo, Gates, Beretta, Bennelli, Taurus, Remington, Ferrari, Perazzi, Keltec, Infinity, Sako and many others.
The Eurotech programming class will cover the fundamentals of multi-axis programming and will inspire new and unique ideas for processing complex turned and milled parts. Programming manuals are used as a guideline for instruction and to help identify where much of the information is located. More concentration is put on formatting than actual coordinates.
A full agenda will be sent upon registration. Participants are encouraged to bring their own programs, parts and questions. A Program Certificate will be awarded to all those who complete the class.
Students should already have 2 axis programming ability. Students are to bring notebook and calculator and are responsible for their own transportation, lodging and meals. Recommendations will be sent upon registration. Open registration -- the classes are based on first come -- first served basis.
To Register, click below.