Special Hi-Tech, Twice-Processed Steel Helps Mold a Bright Future for Automotive Headlights
Headlamps for cars are by no means mere light sources anymore. Today their shapes and functions are among the unique selling points of various car brands. To manufacture the ever more sophisticated components needed for lenses, color fields and headlamp moldings, automotive suppliers need high-grade and high-performance steels. There are only a few producers worldwide capable of delivering this level of quality.
In addition to high and low beams, daytime driving light, position light and turn lights, motorway light, town light, country light, adverse weather as well as static or dynamic bend lighting systems are part of the standard repertoire of modern vehicle headlamps. Developments have long been moving away from the classic halogen light sources towards energy-efficient LED technology.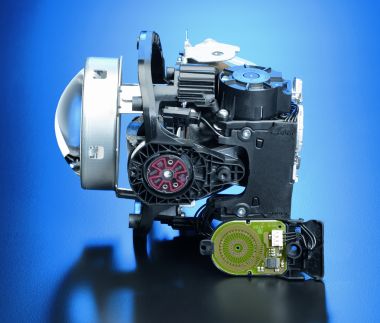 The light module of dynamic bend lighting system includes sensors that measure the beam setting of the headlamps and adapts it depending on the load.
The custom designs of individual makes is also increasing in importance. BMW, for example, is easy to recognize in traffic by their ring-shaped lighting elements, while Audi uses light strips. "In future generations of cars, single LEDs will no longer be seen as light sources," explains Franz-Josef Klegraf, Member of the Executive Board, Business Division Lighting, at automotive supplier HELLA. "The trend is shifting to homogeneous light fields with a certain 3D effect -- such as light curtains and light guides, depending on their application on the vehicle."
Injection Molds with a Profile
With 27,000 employees in more than 30 countries worldwide, HELLA is now one of the world's leading automotive suppliers for lighting systems and electronics. At the tool manufacturing site in Lippstadt, Germany, the company produces some of the injection molds for the plastic parts used in the various headlamps. "We produce innovative lighting impressions, e.g. by using sophisticated surface structures on our plastic parts or optics that distribute the light as it leaves the headlamp," Mr. Klegraf explains. This microstructure slightly resembles a piece of leather and is applied by means of the injection molds to the plastic surface. One of HELLA's main suppliers of the steel for molds is Deutsche Edelstahlwerke, a company of the SCHMOLZ + BICKENBACH Group.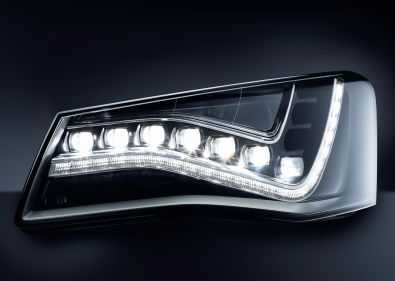 Audi uses light strips for the headlamps of the A8.
Since often only a single injection mold is produced for the headlamp components of a certain car model, the requirements for the steels used are very high. They should not only be corrosion resistant and hard in order to guarantee the long life of the tools, but also have a surface that is easy to polish. "For extremely demanding applications, we usually recommend our Thermodur 2343 Superclean material for HELLA," explains Hans-Georg Maschetzke, Sales Manager Machining and Service at Deutsche Edelstahlwerke. "Due to its composition and our unique production and machining processes, Thermodur 2343 Superclean is optimally suited to the automotive supplier's individual requirements profile."
Sophisticated Mold Production
The basis of steel production at Deutsche Edelstahlwerke is steel scrap melted with other high-grade secondary raw materials in a 130 degree electric arc furnace. After adding the alloys necessary for the corresponding grade of steel (such as, for example, chromium, nickel, molybdenum, vanadium, wolfram or cobalt), the liquid steel is emptied into an existing ladle for further treatment. This ladle then undergoes the secondary steelmaking stage in which the reduction of undesired gas and oxygen content from the steel takes place and fine analysis is done by means of microalloying.
In the electric arc furnaces of Deutsche Edelstahlwerke, stainless steel is melted from selected scrap and certain alloy elements.
"Even the smallest of impurities in the steel can have an impact on the plastic mold and thus also on the parts and the headlamp's light pattern," Hans-Georg Maschetzke explains. "This is why our Thermodur 2343 Superclean material is remelted a second time and virtually filtered (ESR / VAR process) in this remelting process to remove even the smallest segregations and impurities." The ensuing diffusion annealing processes, the forging to the final dimensions as well as extensive annealing treatments produce steel blocks with a consistently homogeneous structure which serve as the basis for mold production at HELLA.
The headlamp manufacturer and one of its suppliers then carries out most of the machining steps on the mold and sends the workpiece back to Deutsche Edelstahlwerke for vacuum heat treatment. "Heat treatment is one of the most decisive work steps because this is where the mold is given the hardness it needs for later use," Maschetzke emphasizes. In this process, the form is heated and allowed to cool at certain intervals to change the steel's internal structure to meet the requirements. The last work steps on the mold itself are undertaken by HELLA. The specialists for lighting systems polish and machine the surface of the mold, depending on the desired final result. For example, to achieve design effects, parts of the form are processed by means of an etching process," explains Klegraf. After several test runs and release, the injection mold is finally ready for HELLA's headlamp production sites in Lippstadt, Eastern Europe, Mexico or China.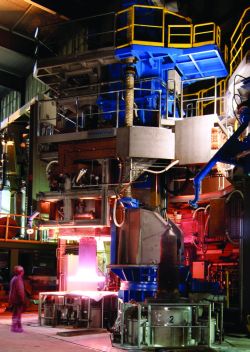 The remelting of stainless steels in the electro slag remelting furnace clearly improves the level of purity, the material's strength and toughness, and ability to be polished.
In addition to the Thermodur 2343 Superclean material, Deutsche Edelstahlwerke also recommends other materials for plastic injection molding applications. Formadur 2083 Superclean because of its higher chromium content is even more resistant to corrosion and wear. The latest development is PH X Superclean which does not require the usual heat treatments and still manages to meet the highest corrosion requirements.
Formadur 2738 and new development Formadur 320 are steels with low hardness. They make production much more cost effective of simpler plastic molds without elaborate surface designs or which have fewer demands on service life. "In Deutsche Edelstahlwerke we have a partner who supports us by providing high-grade steels and qualified process know-how in Germany and in our distribution countries -- and they have done so for over 20 years," reports Franz-Josef Klegraf.
Dynamic Bend Lighting -- Precisely Directed
In addition to light-emitting elements, modern Xenon or LED headlamps will also contain several motors that adapt the light cone to the actual circumstances. When the car is started, sensors, for example, measure the height of the beam and adapt its direction, depending on the vehicle load so as not to dazzle oncoming traffic. Even more complex is the control of the dynamic bend lighting system. Compared to static bend lighting which illuminates the areas along the side of the road at a fixed angle, dynamic bend lighting systems flexibly adapt the diffusion of the light cone to the vehicle's environment. To do so, sensors constantly measure speed and steering angle of the vehicle. The latest systems also use data provided by an onboard camera or GPS data to predict driving situations. The optimum degree of illumination derived from this data is transmitted by an electric pulse to the bend lighting system's motor and the beam is adjusted accordingly. In setting the turn angle, both a rapid response as well as a high degree of accuracy are important. In this case, motor shafts are needed that are precise and translate the incoming pulse in an exact movement.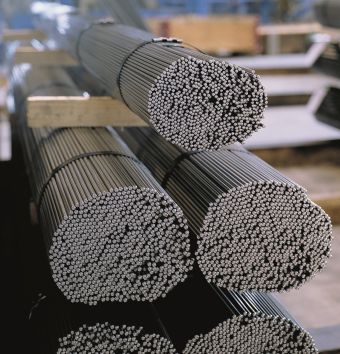 ETG 25 high-grade special steel is excellent to machine and is consequently ideal for use in high-precision motor shafts.
A suitable material is the ETG 25, a special high-grade bright steel produced by Steeltec AG, one of the SCHMOLZ + BICKENBACH Group companies, and supplied to various automotive suppliers as the starting material for drive shafts. "Precision parts for these mechanisms must meet the strictest requirements safely and reliably, year after year," Guido Olschewski, Head of the Product Development division at Steeltec AG, emphasizes. ETG 25 is a material that unites apparent opposites. It is both easy to machine as well as very strong in application -- without necessitating further processing steps, such as heat treatment. "Specifically in the automotive sector, our steel is thus increasingly seen as an alternative to conventional materials and is being used for applications that make high demands on resilience and accuracy," Olschewski stresses.
The Bottom Line
Headlamps for the automotive industry are becoming more and more complex in design and functionality. Lighting systems today now adapt automatically and flexibly to a wide range of road and weather conditions and process a vast assortment of data. The design of headlamps and rear lights is also increasingly becoming a unique selling point for car makers and new shapes and designs such as light curtains and light-emitting elements are opening up numerous possibilities. As headlamp complexity increases, there is also a rising demand for high-grade special steels. The SCHMOLZ + BICKENBACH Group has decades of experience in the development of new high-grade, high-performance steels for the automotive industry.
Want more information? Click below.