Estimate Your Savings with New Online Calculator in Flexible Manufacturing System "PalletAce"
Okuma America Corporation has announced that the company's flexible manufacturing system , AMPS (Automated Modular Pallet System), is now named PALLETACE, reflecting its advanced technology, reliability and efficiency for linear pallet pools.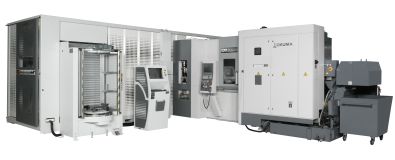 With the unveiling of the new name, Okuma now offers a new online calculator that allows manufacturers to estimate savings that can be achieved with the PALLETACE through increased productivity and quick return-on-investment. The new online calculator can be accessed at www.okuma.com/calculate.
All of the benefits of AMPS remain in place for the PALLETACE flexible manufacturing system. It enhances the productivity of an Okuma horizontal machining center by allowing for unattended runs, lights-out CNC machining, and reduced non-cutting time due to setups and changeovers. PALLETACE is expandable and available in a variety of sizes and configurations.
PALLETACE-C is a complete flexible manufacturing system in a container that is configured specifically for Okuma machining centers. This compact container system is an advanced and cost effective alternative to conventional pallet pools. PALLETACE-C can be configured with up to two containers, two Okuma machining centers, and two load stations, handling as many as 24 pallets.
The PALLETACE-M pallet magazine is a standard flexible manufacturing system for one or multiple Okuma machining centers. It consists of a high-speed stacker crane, two or three levels of pallet storage locations, user-friendly load stations and the easy to use Okuma cell controller system. The Okuma PALLETACE-M offers expandable capacity to 300 pallet locations, 10 machines and four workstations.
Want more information? Click below.
Copyright © 2019 by Nelson Publishing, Inc. All rights reserved. Reproduction Prohibited.
View our terms of use and
privacy policy
::m::