New Fiber Laser System for Small Tube Processing Offers High Cutting Speeds with Low Operating Costs
LT5, the newest member of the Lasertube family from BLM GROUP (Wixom, MI) is an entry level automated laser tube cutter designed to handle small and medium-sized tubes. Thanks to the versatility of its advanced 1 kW IPG fiber laser, the new LT5 can efficiently process mild steel as well as highly reflective materials such as aluminum, copper, and brass.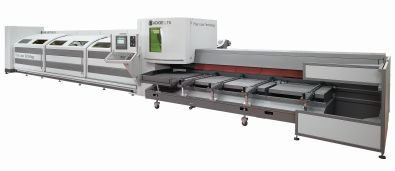 The system's fiber laser provides a dramatic improvement in energy efficiency when compared to the more traditional CO2 laser, leading to as much as a 50% reduction in hourly operating costs. Matched with that are savings from the elimination of routine laser maintenance and optical beam alignments. Its low operating costs, flexibility, and high cutting speeds, coupled with its extreme ease of use and high reliability, make the new LT5 an ideal cost and productivity solution for small tube processing.
The LT5 handles round tubes ranging from 0.5-5". (12-120 mm) square tubes from 0.5" x 0.5" to 4" x 4" (12 x 12 mm to 100 x 100 mm) and rectangular and oval tubes in the 0.4" x 0.5" to 5" x 2.75" (10 x 12 mm to 120 x 70 mm) range. It accepts tube lengths of 126-256" (3200-6500 mm).
The length of each tube is automatically measured during the preloading phase, permitting the machine control to optimize nesting and minimize scrap. Tube is supported and guided during each phase of the process to ensure optimum accuracy of the cut and to protect the tube surface from scratches.
Unloading can be programmed to occur either on at the front or rear of the machine, and different types of pieces can be automatically collected in separate containers placed in the unloading area, saving time and handling. In addition, an optional conveyor can be installed at the rear to unload short-length cut pieces or to collect scrap and end pieces. Changeover to different size tubes typically occurs in a matter of minutes.
The entire process is driven by the user-friendly Artube CAD/CAM software for laser tube cutting, a package that permits direct import of three dimensional CAD data, part simulation, cycle time generation, and advanced off-line nesting, all helping to reduce set-up time and scrap.
Want more information? Click below.