New Metalworking Fluid Ideal for Heavy Duty Deep Hole Drilling, Broaching, Reaming, Creep-Feed Grinding and High-Speed Machining
Blaser Swisslube Inc., manufacturer of Swiss quality metalworking fluids, has released Blasocut® BC940. Blasocut® BC940 is formulated with the latest in state of the art metalworking fluid components. Blasocut® emulsions provide excellent bio-chemical stability and long sump life. This is due to the unique bio-concept of Blasocut® emulsions and is accomplished without the use of bactericides, while maintaining a high level of environmental health and safety.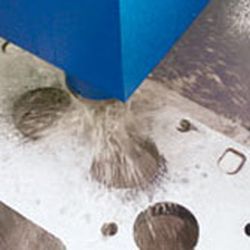 Blasocut® BC940 provides high cutting performance and long tool life in exotic alloys and is formulated for use in heavy duty machining applications over a wide range of materials. Blasocut® BC940 has excellent washing action and low misting properties, thus providing a high level of machine and shop cleanliness. Blasocut® BC940 exhibits excellent bio and chemical stability and is formulated for use in hard or soft water. Blasocut® BC940 provides good foam control in moderate to high coolant pressure applications.
Want more information? Click below.
Copyright © 2019 by Nelson Publishing, Inc. All rights reserved. Reproduction Prohibited.
View our terms of use and
privacy policy
::m::