Siemens Selects All-Electric Tube Bender to Produce Subsea Oil and Gas Recovery Equipment; Expects Machine to Pay for Itself in Less Than 2 Years
The traditional market for high-performance tube bending machines is in the aerospace industry, where precision bending of exotic alloy materials is a common requirement. But companies serving the offshore oil and gas industries also face similar demands, as their products are used in ever more hostile environments.
Siemens Subsea Products has chosen an all-electric tube bender from Unison to improve the quality and speed the production of the small-bore hydraulic tubes it uses on subsea hydraulic flying leads with Multiple Quick Connections (MQC), Cobra Heads and associated offshore oil and gas recovery equipment. The tubes feature complex bends of extremely high accuracy, and until now the company has either fabricated them manually or bought them in as pre-formed sub-assemblies.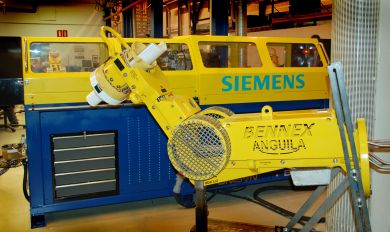 Siemens Subsea Products is using an all-electric tube bending machine from Unison to produce all the small-bore hydraulic tubes needed for Cobra Heads and other subsea umbilical termination units.
Siemens Subsea Products produces a wide range of subsea electric, fiber optic and hydraulic power and control systems for offshore oil and gas subsea applications. Its hydraulic workshop at Kongsberg in Norway operates world-class fabrication and assembly processes, producing systems for direct sales and third-party suppliers. As part of its strategy to expand manufacturing capabilities in this specialist field, the company recently reviewed tube bending automation, starting by comparing the performance of a number of leading hydraulic and all-electric tube bending machines.
According to Terje Barth Andersen, Technical Advisor for Subsea Products in Siemens, "It was quickly apparent that electric tube benders offer a number of advantages over hydraulic machines; including more accurate and repeatable results, lower energy consumption and lower noise. In the all-electric sector, Unison's machines stand out from the competition because they allow much faster tool changeover -- which is important for us because we produce many of our tubes in very small batch sizes. Another key factor behind our choice was Unison's willingness to develop a machine configuration specifically for our needs."
The tube bender supplied to Siemens Subsea is a 25 mm model based on Unison's popular Breeze platform of all-electric machines, and incorporates a 'rise and fall' pressure die which enables it to perform right- and left-handed bending; this increases manufacturing flexibility and throughput by allowing long and complex parts to be produced from a single length of tubing in one continuous cycle. Installed at Siemens' Kongsberg facility at the end of last year, the machine is commenced operation January 2013.
The custom Unison all-electric tube bending machine undergoing commissioning at Siemens Subsea Products' facility in Kongsberg, Norway.
The subsea equipment produced by Siemens Subsea is designed for long term deployment -- many of the systems have a design life of 30 years and are intended for operation at depths up to and beyond 3,000 meters. As a consequence, the tubes used within the equipment that convey hydraulic fluid for power and control purposes are subject to extremely high internal and external pressures and need to be manufactured to exceptionally high standards. A key requirement is to minimize stressing of the tubes at their bend points -- which could lead to in-service failure -- by avoiding use of small bend radii. Whereas many conventional tube bending machines are incapable of handling large bend radii, the Unison machine supplied to Siemens features 'full stroke' programmable positioning of the pressure dies and clamps, enabling it to create bends with a CLR (centre-line radius) up to five times the diameter of the tube, with fully automatic set up.
All critical movement axes on the Unison tube bender are controlled by precision servomotors, enabling fast and repeatable fabrication of parts with accuracies to within fractions of a millimeter. The machine is also capable of generating the high torque needed for bending tubes fabricated from exotic alloys such as Inconel, Duplex and Super Duplex, which are used extensively for subsea applications to improve corrosion resistance.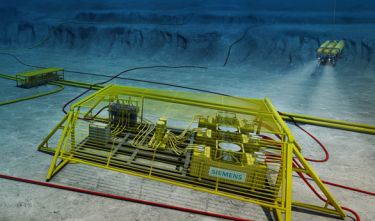 Future subsea processing facilities will grow to include several electrically-driven pumps and gas compressors to transport oil and gas over very long distances.
Siemens Subsea's first project involving the Unison machine will be the South Belut Project production of 800 tubes, all made from 316 and requiring complex bends and orbital welding in both ends, for use on umbilical termination units known as MQCs. These are used on various subsea structures, including Christmas trees, and Siemens' versions can accommodate up to 13 hydraulic lines, demanding extremely tight manufacturing tolerances. Each tube is designed on a Inventor 3D CAD system, and the company generally then produces a prototype to verify its accuracy and feed any necessary corrections back into the production process to ensure the quality of subsequent parts. Automating the tube bending process is set to accelerate this procedure -- the CAD system and bending machine are linked by a production computer network -- and will help Siemens Subsea Products maintain the fully traceable manufacturing records needed for this industry.
Terje Barth Andersen points out that the accuracy and throughput capabilities of Unison's tube bender offer major economic benefits to companies working with expensive materials. "We calculate that the machine will pay for itself in less than two years, based solely on the number of tubes that we can now process in-house instead of purchasing as ready-made parts. Furthermore, the machine's automated set-up capabilities and control software flexibility will help us significantly reduce scrap material by 'right first time' manufacturing. We also envision selling excess tube bending capacity to the market, making this an even more cost-effective investment."
Want more information? Click below.