Motor Management System Now Includes Interface to Higher Level Automation Systems --Improves Motor Diagnostics, Control, and Protection
Siemens Industry Automation Division has expanded its Simocode Pro motor management system to include a basic unit with Profinet interface. Linking up Simocode Pro via Ethernet to higher-level automation systems allows new functions to be provided for motor diagnostics, control and protection. The additional integration of PROFIenergy also improves energy management.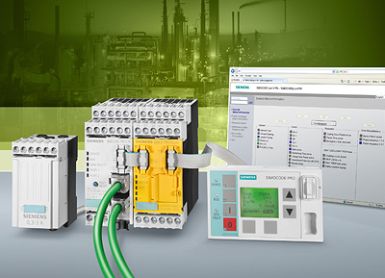 Siemens new Simocode Pro motor management system includes a Simocode Pro V Profinet basic unit with two RJ45 interfaces, allowing the system to connect to higher-level controllers such as Simatic S7 or to control systems such as Simatic PCS 7. Profinet can be used to provide media redundancy functions which ensure that a connection is maintained within a network with ring topology, even if one communication channel fails. This helps to increase the availability, resulting in increased productivity of the entire plant.
With its Profinet compatibility, the new basic unit also offers more far-reaching diagnostic and control functions, in addition to simple communication between higher-level plant control and drive systems. Simocode Pro features integrated web diagnostics, as well as server for OPC UA, the multi-vendor communication standard in automation. With the aid of an Internet browser, all diagnostic and service data, values and statistics relating to the motor starter can be called up from anywhere via a network connection and the web server. This means increased flexibility for the user. The integrated OPC UA server allows this data to be called up from the higher-level SCADA system via HMI panels at the field level. Users can also have their diagnostic data shown in a customized display adapted to their application. A further advantage of the OPC UA server is that control signals can be transmitted to the control system via a secure link. As a result, the user can monitor and control the drives more effectively and provide them with better protection.
PROFIenergy has also been integrated into the new basic unit for Simocode Pro with the Profinet interface. The motors are controlled centrally via Profinet and, for example, can be shut down during breaks. The measured values and status information can also be called up via the PROFIenergy protocol, thus enabling efficient energy and load management. This considerably reduces the plant's energy requirements and costs.
Background to Simocode Pro: In many automated processes, plant downtimes are extremely cost-intensive. The flexible, modular Simocode Pro motor management system for low-voltage motors ensures the highest possible level of availability for drives as all of the important performance parameters are monitored and the system protected against overload and short-circuits. In critical situations, Simocode Pro shuts down the connected motors. This way malfunctions can be prevented by using the Siemens motor management system, and when a fault does occur, it can be remedied faster.
Want more information? Click below.
Copyright © 2019 by Nelson Publishing, Inc. All rights reserved. Reproduction Prohibited.
View our terms of use and
privacy policy
::m::