Product Development Simulation and Analysis Software Designed to Speed Data Access Up to 25 Times and Reduce Memory Usage Up to 80%
The latest release of Siemens' Femap™ software increases engineering productivity in product development simulation and analysis due to significant enhancements in data handling and graphic performance.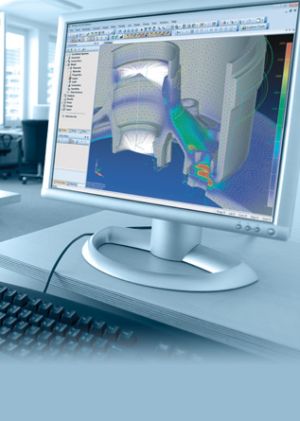 Version 11 (Femap 11) speeds data access by up to twenty five times and reduces memory usage by up to 80 percent, delivering a smaller more manageable model file. In addition, dynamic rotation of large, complex models is at least five times faster than the previous version. As a result of these, and several other enhancements, engineers can speed finite element analysis while maintaining product quality and performance. Femap, an offering of Siemens' product lifecycle management (PLM) software business unit, is the world's leading pre- and post-processor for engineering finite element analysis (FEA) running on the Windows® operating system.
"I was very impressed with the performance of Femap 11," said Cong Yuan, a Femap 11 beta tester at NST an engineering consulting firm engaged in the development, marketing and technical support of CAE (computer-aided engineering) application software. "Using one of its new features, we were able to significantly reduce processing time while keeping the computer resource usage low. Reopening a large analysis result file was over 200 times faster. This is great news for CAE users who are concerned about the trend of increasing analysis model sizes."
Engineering productivity is further supported in Femap 11 through the creation of geometry from a finite element mesh when no underlying geometry is available. This simplifies modification and enables legacy finite element models that previously took hours to update to now be done in minutes.
"The enhancements in Femap 11, improve productivity and product performance by enabling engineers to review results data faster and perform more thorough and complete analysis of complex engineering problems," said Bill McClure, vice president of product development, Mainstream Engineering, Siemens PLM Software. "The ability to accurately simulate in a virtual environment how a product will perform in the real world can have significant impact on the cost, quality, safety and customer satisfaction associated with that product."
Want more information? Click below.
Copyright © 2019 by Nelson Publishing, Inc. All rights reserved. Reproduction Prohibited.
View our terms of use and
privacy policy
::m::