Hydraulic Manifold Manufacturer Switches from Dedicated Fixtures to a New, Flexible Workholding Setup and Plows Its Way to Increased Productivity
Minimizing setups, keeping the spindle turning and multitasking with one CNC machining center instead of two machines are keys to success when making precision parts. For Western Products, its new hydraulic towers with quick change jaws does all this and more.
Western® is an industry-leading manufacturer of CONTRACTOR GRADE® plows, with over one dozen hydraulic driven models. They now run their milling operations with new Kurt Towers at top machine speed -- 15,000 rpm and 350 in/min and part-to-part repeatability of 0.0005 inch. According to Brian Thoreson, Western Products' Shop Supervisor, concentricity from one operation to the second operation is greatly improved. Scrap, while never a huge concern before, is reduced by half with the new setup.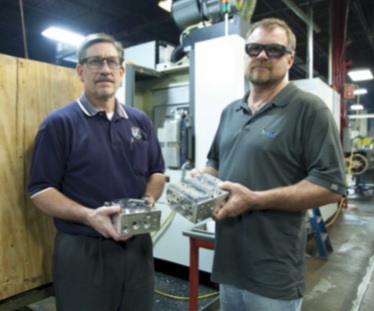 Brian Thoreson, Machine Shop Supervisor (right) of Western Products and Michael Dulmes, Kurt Sales Representative (left) holding machined manifold blocks.
A primary and a secondary manifold that regulates the hydraulic pressure operate these plows. To handle the constantly changing pressures efficiently with no leaks over many cycles, the manifolds have to be precision machined with very tight tolerances.
Different Manifold Configurations, Varying Part Runs And Number Of Skews Mandate A More Flexible Workholding Process
"The growth of our Snowplow product line required that we improve our manufacturing processes," says Mr. Thoreson. "For the past 15 years, we used dedicated hydraulic tombstones equipped with swing clamps to hold the manifolds for machining in specific fixtures. Different manifold sizes required a different fixture. As our product line grew, the number of different manifolds grew and the quantity requirements for each model varied. We decided to see if there was a more efficient workholding process available to improve quality while allowing us to continue using our existing machining centers.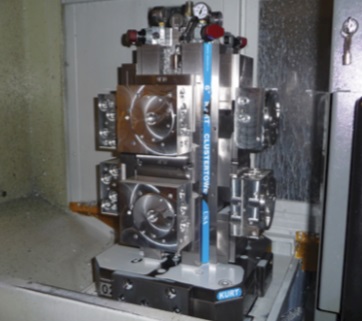 The company's Kurt Cluster Tower system with quick change jaws.
Western Products' manifolds are 5-3/4 by 3-3/8 inch and 7.6 x 5.6 x 2.8 inch with differing ports and other features. The manifolds are precision machined out of 6061 aluminum, a heavy duty, corrosion resistant material for high-pressure applications. The machining operations for these manifolds include face milling, drilling, tapping, thread milling and hydraulic porting.
Standard Six Inch Kurt Hydraulic ClusterTowers With Customized Quick-Change Jaw Sets Provide The Solution
Western Products used two twin pallet Mori-Seiki NH-400 high precision machining centers with its dedicated fixture setup. While Western Products was satisfied with the machining centers performance, they questioned the growing amount of setup time as the manifold mix grew.
Kurt engineers presented drawings of a new ClusterTower setup using custom jaws, and the proposal the engineers made seemed ideal. They convinced Western that it would give them the rigid workholding they required and a more efficient setup process. One set of custom jaws the engineers proposed handles the first series of machining operations on the extruded workpiece blanks. When complete, the parts are reversed on another special set of jaws for a second series of machining operations. Several of the machined part features from the first series of operations are used to correctly position the workpieces for the second series of machining operations.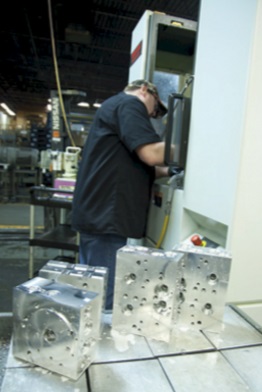 The quick change jaws in the Kurt ClusterTower setup add versatility to the workholding not possible with the previous dedicated fixtures.
"With the new setup, we're clamping at 3000 to 3100 PSI which is more than adequate pressure to hold the parts rigidly for the tightest tolerances and no part vibration," reports Mr. Thoreson. "Originally, we were concerned that a standard tower setup like this would not be rigid enough to get top speed and accuracy, but we quickly found those never became issues." With a maximum spindle speed of 15,000 rpm (depending on operation), Western Products was able to operate the machines near top speed with low vibration, good acceleration and without rotary drive backlash. One of the reasons for the rigidity is that Kurt ClusterTowers are precision machined from 80,000 psi ductile iron. This robust design gives the clamping modules the extra rigidity needed to achieve workpiece immobility while dampening any cutter induced vibration.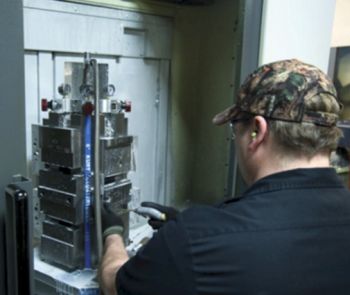 The twin pallet Mori-Seiki NH 400 allows for load/unload operations of one tower setup while the second is in the cut. The jaws mount quickly into the Kurt ClusterTower and hold rigidly, making possible concentricity on machined manifold surfaces.
New Manifolds And Design Changes Handled Better With New Setup
Western Products derived many additional benefits with the new workholding setup besides having fewer and faster setups. Now, when a new manifold design is needed or an engineering change is made to an existing manifold, all that is needed is a new set of jaws costing a few hundred dollars. With the old setup, an entire dedicated fixture was required costing thousands of dollars. The turnaround time to get new jaws from Kurt is just days compared to several weeks to make a new dedicated fixture.
While time for loading and unloading parts in the new setup versus the old is about the same, the big difference is improved productivity, part accuracy and now the new towers with the changeable jaws stay on the worktable. Before, the entire setup had to be removed and replaced from the worktable to change manifold models. That took 30 minutes and use of a hoist.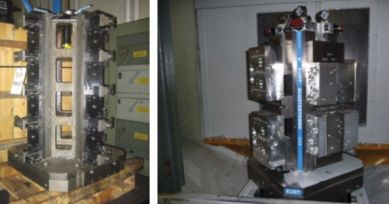 Old setup (left) compared to the new setup (right). Moving the old heavy fixtures on and off the machining center worktable (left) was required when additional manifold sizes required machining. The new Kurt ClusterTowers stay on the machine worktable requiring only a simple change of jaws for the additional manifold sizes.
"Now, to change setups, we just unsnap the jaws, adjust the vise opening for the new part by hand, and we're ready to pressurize and run new parts," says Mr. Thoreson. "The old dedicated setup required milling holding slots into each workpiece. We don't have to mill those slots with the new tower setup. Also, we machine two different manifolds at the same time on the same machine. We do this on two, eight-hour shifts, something we weren't able to do before. We machine approximately 480 manifolds most weeks, 240 of each size. Even with these quantities, we are able to eliminate the use of a second machine freeing it up for other work."
"We run this new setup as aggressively as possible with highest feed rates because the Kurt ClusterTowers can take it," states Mr. Thoreson. "We don't have to worry about vibration or chatter because the ductile iron vise bodies dampen any tendency to vibrate when aggressive operations are called for. Besides being much faster than the previous setup, the machine operator's time is better utilized allowing for other tasks."
Want more information? Click below.