Heavy-Duty Turning Center Tackles Big Parts; 50 HP Spindle and 4-Speed Gearbox Deliver High Torque at Low RPM
The Johnford ST-80CH is a heavy duty, high precision CNC turning center built for industries such as oil-field, energy, and construction equipment -- industries that need large lathes for big parts.
Absolute Machine Tools, Inc. offers this massive 35,500 lb. slant bed machine, which is available in bed lengths up to 240" and with spindle holes up to 24". The one piece 60 degree casting design was built for unparalleled ergonomics for easy operator access and unprecedented chip flow. Solid machine construction is key to the ST-80CH's heavy-duty cutting performance. Built in classic style, the 60 degree slant bed is a torque tube design. The torque tube, or hole cast through the center of the slant bed, provides an extremely rigid bed and excellent heat dissipation.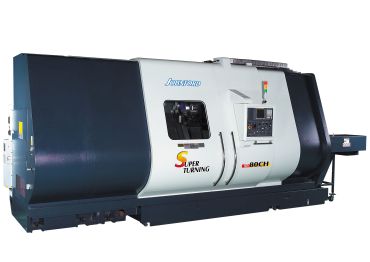 Built tough, with a one piece Meehanite iron design, the turning center takes full advantage of its powerful 50 HP high torque spindle motor and standard four-speed gear box, which delivers high torque at low RPM. An optional 60 HP spindle motor is available for high power cutting. The precision spindle structure is mounted using precision double row roller bearings in conjunction with angular contact ball bearings for high rigidity and accuracy. The spindle quill inner and outer linings are precision ground for fit with the spindle, thus ensuring extreme concentricity and accuracy.
The machine also features hand scraped, square box ways that provide the rigidity for heavy duty turning. Turcite B applied to all mating sliding surfaces ensures high rapid traverse rates and accurate positioning. In addition, the ST-80CH's headstock, tailstock, and saddle are all mounted on the same plane at a 60 degree angle to ensure precision and thermal stability.
The coolant tank is separate from the machine base to prevent heat transfer from the coolant to the machine casting, which ensures precision and promotes easy clean out and maintenance. To further ensure accuracy and precision, the ballscrews are double nut type and pre-tensioned to eliminate thermal growth.
A 12 station bi-directional turret or optional BMT live turret provides 0.5 second indexing as well as coolant through the tool holders. A full C axis with live tools is available for applications requiring milling operations. Fanuc CNC controls are standard.
Want more information? Click below.