GibbsCAM's New Capabilities Allow SolidWorks' Parts to be Machined with a Single Mouse Click
Gibbs and Associates will be demonstrating how GibbsCAM software is optimized for machining parts designed in SolidWorks® at the SolidWorks World 2013 Conference. The conference is being held from January 20-23, 2013, at the Walt Disney World Swan and Dolphin hotel facility, in Lake Buena Vista, Florida.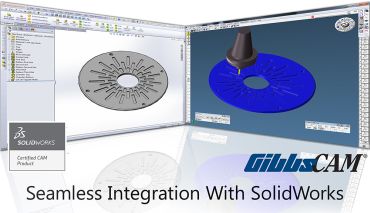 Gibbs has also been selected to give a presentation called "Machining SolidWorks Features". The presentation, to be delivered by Steve Aughinbaugh, GibbsCAM applications engineer, from 6:45PM-7:00PM, Monday, January 21, 2013, will highlight GibbsCAM's new capabilities that provide optimal integration between SolidWorks and GibbsCAM. The presentation focuses on the simplification of machining solids created in SolidWorks. Mr. Aughinbaugh will demonstrate how GibbsCAM uses Knowledge Based Machining to automatically read SolidWorks part features and machine them with a single mouse click.
GibbsCAM, a SolidWorks Certified CAM Product, has many new capabilities providing seamless integration between SolidWorks and GibbsCAM. This year's presentation will be centered on new automation functionality, GibbsCAM Feature Manager, which reads and preserves features from SolidWorks files. Feature Manager enables the NC programmer to read features from the SolidWorks Feature Tree, such as extrusions, patterns, and revolved features, easily identify and select areas for machining, and apply machining processes required to make the part. Perhaps of greatest benefit to users, is GibbsCAM's unique ability to handle the inevitable engineering changes that require modifying a part. When an updated part file is transferred into GibbsCAM, it automatically identifies changed features and updates all machining processes with one or two clicks of the mouse. The result is faster programming and more accurate parts produced more quickly. SolidWorks users also benefit from GibbsCAM's unique user interface, making it easy to learn and use, for both designers and manufacturing professionals.
For the demonstration, Mr. Aughinbaugh will open a SolidWorks part with pockets and other features, load the part into GibbsCAM and machine it, demonstrating the ease, speed and efficiency of reading features from the Feature Tree and programming them. To demonstrate how GibbsCAM saves valuable time with an updated part, he will show how GibbsCAM reads the revised part, automatically recognizes changes, updates the machining processes and generates a new NC program. This demonstration will clearly illustrate the value of this dynamic integration between SolidWorks and GibbsCAM in family-of-parts programming and providing quick response to engineering change orders.
Other time saving functionality for SolidWorks users include GibbsCAM's Automatic Feature Recognition (AFR) and its Hole Manager, which integrates with the SolidWorks Hole Wizard to automatically read, recognize, and machine holes. Hole Manager reads all attributes applied to holes created by the SolidWorks Hole Wizard, and automatically generates tool lists and processes right down to the finished operations. GibbsCAM also preserves colors applied to SolidWorks models. Since colors applied in the design process often convey information about manufacturing processes, preserving these colors improves communication between design and manufacturing, reducing errors and speeding up programming time. In combination with Feature Manager's reading of solid features from the Feature Tree, GibbsCAM AFR and Hole Manager greatly simplify solids machining and provide huge time savings for the SolidWorks user.
Want more information? Click below.