High Precision 2+2+2 Equalizing Chucks Minimize Part Deformation
SMW Autoblok will be introducing their new SJL High Precision 2+2+2 Equalizing Chucks to the North American market at IMTS 2012. SJL Chucks are unique in their ability to be switched from a 2+2+2 equalizing chuck for clamping raw materials to a 6 jaw self-centering chuck for clamping round machined diameters.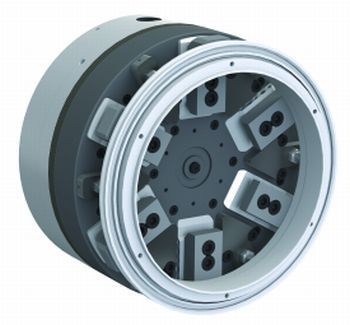 In 2+2+2 equalizing mode, the SJL Chuck clamps parts with sets of two jaws equalizing as pairs. This allows compensation for any inaccuracies in the workpiece, as all six jaws are in contact with the workpiece. Since gripping forces are equally distributed across all six jaws, part deformation is minimalized.
By locking the 2+2+2 equalization via a central locking plate, SJL Chucks can be used as standard 6 jaw self-centering chucks. In this mode, the SJL Chuck is ideal for boring top jaws as well as clamping thin walled workpieces that require equal wall thickness.
SJL Chucks are fully sealed and oil bath lubricated with volume compensation, preventing breathing of the seals during actuation. This creates constant gripping force during machining, and allows the chucks to be used on horizontal, vertical and pick-up machines.
SJL Chucks are available in diameters from 220mm to 1250mm (8.66" to 49.21"), and can be used for Hi-Lo gripping. All SJL Chucks feature a centrifugal force compensation mechanism to ensure consistent clamping force at higher machining speeds.
Want more information? Click below.
Copyright © 2019 by Nelson Publishing, Inc. All rights reserved. Reproduction Prohibited.
View our terms of use and
privacy policy
::m::