New Alignment Tool for Fast and Precise Adjustments Keeps Spindle Taper Free from Damage and Running True
Ensure long machine tool, cutting tool and tool holder life while reducing stress on your spindle with the ATC Alignment Tool from BIG Kaiser.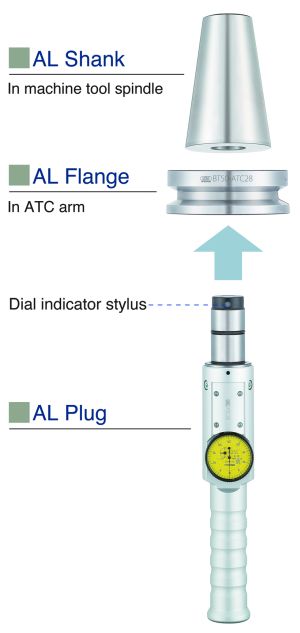 When automatically loading a tool holder, any misalignment of the ATC gripper to the spindle may cause damage to the spindle taper. A misaligned, clamped tool holder leads to increased runout, thereby shortening the life of the machine tool, cutting tool and tool holder. The ATC Alignment Tool allows operators to easily avoid such problems by making sure the ATC gripper aligns the tool with extreme precision, which prevents any collision and potential damage. The tool may also be used to align the ATC gripper to the magazine tool pockets.
"The ATC Alignment Tool functions as a preventative maintenance tool for operators, but also is useful during repairs, and even during the original machine and tool magazine setup," says Jack Burley, BIG Kaiser vice president of sales and engineering. "It's an indispensable accessory for machine tool repair and installation operators."
The tool features a built-in stylus that determines the high/low values when the plug is slowly rotated. The values are displayed on a 10 micron/div. dial indicator and reveal the eccentric direction -- half of the gap between the high and low is the eccentric amount. Such eccentricities would be otherwise imperceptible.
The ATC Alignment Tool is the latest in BIG Kaiser's wide range of precision machine inspection, installation and repair solutions, which also include the Dyna Test, Dyna Force and Level Master.
Want more information? Click below.
Copyright © 2019 by Nelson Publishing, Inc. All rights reserved. Reproduction Prohibited.
View our terms of use and
privacy policy
::m::