Large Job Shop "Controls" Its Own Destiny By Specializing in Precision, Complex Parts for the Most Demanding Customers
Aztalan Engineering, a large shop in Lake Mills, Wisconsin, produces short runs on parts that have unique requirements and narrow tolerances. With Okuma's help, they have become one of the fastest growing companies in North America, delivering precision parts to customers in the aerospace, energy, and defense industries.
Aztalan President and founder Jim Brey is a super-achiever who leaves other super-achievers in his wake. It's a characteristic he seems not to notice, but his company and his customers certainly have.
During his career he's circled the globe, beginning as a young boy milking cows on the family farm in Wisconsin. This is where his down-to-earth qualities were ingrained. A diligent work ethic, gentle humility, smiling affable nature, and his hallmark - relentless pursuer of quality - all took root on the farm.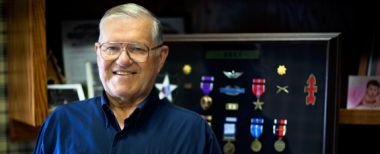 Aztalan President and founder Jim Brey spent 19 years in the engineering field before opening his own company in Wisconsin.
In the 1940s and 1950s he spent time in the Army and served in the Korean War, where he not only survived (which he attributes to "luck") but served with honor and distinction, earning two Purple Hearts, several other medals, and a battlefield commission from Staff Sergeant to Second Lieutenant.
Returning from Korea he signed up for the Army Aviation flight school and continued serving on active duty in Europe. Subsequently, while continuing his military service in the Wisconsin Army National Guard, he completed his degree in Mechanical Engineering at the University of Wisconsin. His engineering expertise was honed through nineteen years working in various positions with McDonnell Douglas, AC Delco, and Hamlin Electronics.
Then one day, at the age of 50, he said to his wife Jean, "Let's do this for ourselves."
And so the new business was born. Jim knew he wanted something unique for his company name, and settled on Aztalan Engineering, Inc. to reflect his home in Aztalan Township, Wisconsin, and to emphasize the combined offerings of engineering and manufacturing. This set the stage for a uniqueness that would flourish in the 31 years to come.
Breakthrough Account Heralds the Okuma Era
For the first ten years, Aztalan operated out of a two-car garage on the Brey's 62-acre farm in Wisconsin. Having saved enough to build a dedicated facility, they moved to a nearby business park in Lake Mills. Ten years later, they built again to double their space.

One of the fastest-growing companies in North America, Aztalan is opening a new 46,000 square foot building to make room for growth.
In 1996 Aztalan landed their big account, with what is now the clinical division of GE Healthcare. They were entrusted with building valves and valve plates for the vaporizers on machines that deliver anesthesia to patients. This is tight-tolerance work, and the process was originally established in Seaton, England. The transfer of the process to Aztalan included delivery of two Okuma LR lathes with robotic arms.
"Our first two Okuma lathes were older machines, and we were impressed with the support we got from the dealership and from Okuma," recalls Jim. "Even thought the equipment was pretty old, it performed just like it was brand new. Today, after all these years, it's still performing like new. This is top-of-the-line. It pays to stick with a winner."
The relationship with Okuma distributor Morris Midwest and the support from Okuma led to the purchase of additional lathes and horizontal machining centers through the years.
As Aztalan established a solid foothold in the medical device industry, they implemented an ongoing crusade to ensure both a consistently high quality product for their customers and a competitive price.
"Efficiency is critical to our overall success. That's why we like the Okuma CNC machines, because we don't want breakdowns, and we don't want bad parts," Jim asserts. "In the last year, we went through a lot of moves from single spindle machines to the twin spindle Okumas, and the efficiencies went way up."

Okuma's MacMan-Net CNC monitoring allowed Aztalan to increase efficiency with lights out manufacturing.
The single spindle, single action lathes were relatively labor-intensive, with a work-in-process (WIP) flow. They would do half of the part, which would then be put aside while setting up the machine for the other half. Machining capabilities were also limited. The new Okuma LTs, both the 10 and the 200, have C- and Y-axes, allowing the parts to come off complete.
The Aztalan team added several ingenious customizations to streamline and standardize processes. "We put little conveyors on them, and built our own parts catchers," says Jim. "This allows us to run the machines without needing an operator for loading and unloading. Now we can have one person running two machines, and we do that a lot." As part of their lean program they've meticulously standardized set ups, putting all the tools needed for changeovers in place for quick, repeatable access at each machine.
MacMan-Net CNC Monitoring for Every Machine
As business expanded, it became clear that the biggest untapped resource was running lights out. When Okuma introduced MacMan-Net (Machine Management Network) CNC monitoring, the Aztalan team saw a huge opportunity. There was, however, one hurdle to overcome. As an all-Okuma shop, and with the standardization and process efficiency they had accomplished, Jim saw no room for compromise in the CNC controls. Though MacMan-Net was only offered with new equipment at the time, Jim insisted it be installed on every Okuma machine.
According to Jim, "Morris Midwest and the Okuma engineers designed software so that all our Okumas could be hooked up to MacMan-Net. They came in and they actually installed it for us, and managed the implementation so we could get the new systems up and running smoothly. That was a really big deal."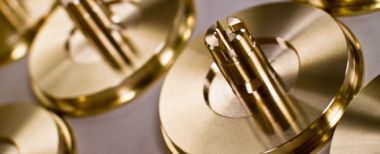 "When we're putting a part out there, it's going into an operating room or on the battlefield. People's lives depend on our parts," said Kirk Kussman, sales and marketing director.
Today, MacMan-Net is used to integrate automation with machine and tool management personnel on a daily basis, allowing for proactive error identification and troubleshooting. All of this allows Aztalan to run lights out with confidence they can produce complex, short run parts at the quality level their customers have come to expect.
The Rewards of Optimization
The extreme level of process optimization they've achieved gives Aztalan efficiency that makes them competitive on quotes for even the most demanding customers. The CNC machines have filled up fast, and now they're branching out into other precision parts markets, including aerospace and military. Their manufacturing prowess has enabled them to secure ISO 13485 certification for medical device standards, AS9100 for aerospace, and ISO 9001:2008 registration.
They're one of the fastest-growing companies in North America, and are opening a new 46,000 square foot building to make room for growth. More than 60 employees now operate over a dozen machining centers.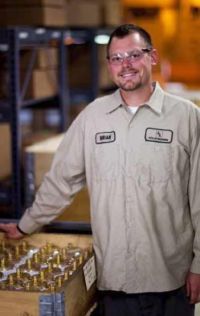 Aztalan Engineering has been producing complex, precision parts for more than 30 years.
"People's Lives Depend on Our Parts"
The Aztalan secret to growth is deceptively simple: focus on quality, with no rejects, and never compromise on-time delivery. In the medical device industry, where they first made their mark, this is more than just a good business decision.
Kirk Kussman, sales and marketing director, reveals a driving force that spurs each employee to follow in Jim's super-achiever footsteps. "There's a lot of art and craftsmanship in making high-quality precision parts. But it's not just that. When we're putting a part out there, it's going into an operating room or on the battlefield. People's lives depend on our parts."
Controlling Their Own Destiny
Kirk envisions continuing down Aztalan's unique path in the marketplace. "We make really difficult and complex parts. That's our sweet spot. Some parts that other shops don't want to take on, we'll take on."
The Aztalan team, with 31 years of achievement, has a clear mission and vision. Being known for quality, and delivering that efficiently, is who they are and what their customers want. As growth drives them next into 5 axis machines, the THINC CNC control will continue to guide them through process optimization.
Want more information? Click below.
To view a video on Aztalan, click below.