Laser-Sintering Additive Manufacturing System Produces Affordable 18k Gold Jewelry and Watches
For the first time, EOS showcases precious metal parts made of 18 ct yellow gold which were manufactured on a new, small prototype metal laser-sintering system PRECIOUS M 080. As a manufacturing solution for the jewelry and watch industry, the affordable and compact laser-sintering system will set new standards and is designed for the particular needs of these industries.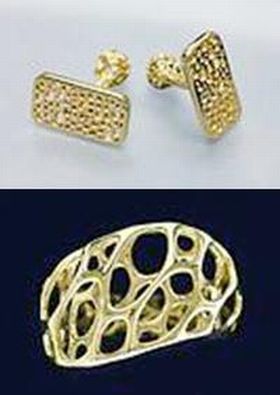 For the system development EOS joined forces with Cookson Precious Metals (CPM), worldwide established supplier for the precious metal industry. Based on a strategic development partnership both companies plan to introduce and further develop precious metal-based applications to the jewelry and watch industry. Under this partnership, EOS is the technology provider, Cookson will cover sales for named industries. The product and services offerings will range from consulting, Direct Metal Laser-Sintering (DMLS)-based design processes, the production of precious metal parts and the development and production of special precious metal alloys for the additive manufacturing process. They also plan to develop a bespoke solution chain for high volume jewelry production. To begin with, CPM offers AM manufacturing capacities enabling a production of designs made of 18 ct yellow cold (3N colour).
Stella Layton, CEO of Cookson Precious Metals states: "With this technology, 3D bespoke jewelry and watch components can be created from CAD files. This takes us on an exciting journey permitting the creation of highly complex and intricate designs that weren't thinkable before. The particular beauty of Additive Manufacturing is that it can be used to produce both one-off pieces as well as large scale production eliminating many process steps and tooling costs that we see today."
Dr. Adrian Keppler, EVP Strategy and Business Development at EOS states: "With CPM we found a perfect partner to introduce our innovative technology to the luxury goods industry, thus shifting paradigms in manufacturing. We truly believe that our AM process offers a huge potential for these industries. Compared to conventional manufacturing techniques it paves the way for a completely new approach towards design and manufacturing. This is what we call 'design-driven manufacturing'. The technology offers a freedom of design the industry has long been searching for. The most demanding jewelry brands can now create entirely new products and geometries that still meet their high quality requirements. The technology challenges designer's imagination and pushes it to the next level."
Both EOS and CPM envision customized e-manufacturing solutions that will change the economics of making jewelry or watches. The technology enables time savings, thus lowering the general costs of entry into the business of making quality jewelry and watch parts in precious metal. As such, e-manufacturing with DMLS enables designers to produce pieces that do not have to deal with the boundaries of conventional production techniques.
Want more information? Click below.
Copyright © 2019 by Nelson Publishing, Inc. All rights reserved. Reproduction Prohibited.
View our terms of use and
privacy policy
::m::