New Vertical Machining Center Helps Maryland Manufacturer "Feel" Its Way to 30% Less Cycle Time
Custom component manufacturer finds a smaller, easy-to-operate VMC enables them to keep up with customer demand and reach their goal of "never handling a part more than twice".
Due to today's challenging economic climate, conservative manufacturers might shy away from new capital investment. However, savvy owners know that investing in new machining centers with the latest technology can offer a tremendous pay-back.
Kenlee Precision Corporation (Baltimore, MD) is one manufacturer who has progressed in large part due to their commitment to strategic capital investment in state-of-the-art machining capabilities in order to satisfy customer needs. Since 1969, Kenlee has focused on the custom manufacturing of precision components and finished assemblies in medical, semi-conductor, electronic, military, transportation and other markets. The majority of the manufacturer's business is domestic.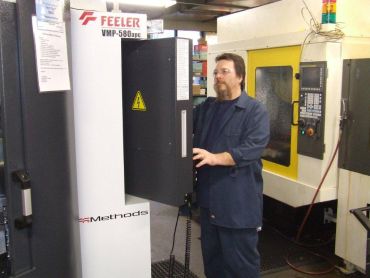 Mike Allen, Set-up Machinist at Kenlee Precision in Baltimore, Maryland, is working with the FEELER VMP 580 APC from Methods Machine Tools, Inc.
Kenlee has 120 employees at their 50,000 sq. ft. facility in Baltimore. They are ISO 9001 certified, and their mantra is "quality without compromise".
Early on, Mr. Kenneth A. Lewis, Sr., President & CEO of Kenlee Precision positioned the company as a "one stop shop". Services include CNC machining as well as sheet metal fabrication and electro-mechanical assembly, and even the testing and finishing phases of the manufacturing process. "We are a customer driven supplier with a can-do attitude," said Lewis. "We always say, if you can't measure it, you can't make it."
For example, several years ago Kenlee received a $350,000 order to manufacture high precision / tolerance parts requiring +/- one ten thousandths accuracy for a military electro mechanical device. Never one to pass up an opportunity, Kenlee invested $600,000 in new equipment including an index rotary table and jig borer to meet the challenge and the delivery.
"The only way we can compete is by staying with the latest, state of the art technology," said Lewis. This philosophy is evident when you consider that in 1978, Kenlee was one of the first in the industry to purchase a Matsuura vertical machining center. Matsuura began exporting VMC's to the U.S. in 1975. The Matsuura brand is synonymous with quality, high precision machining; offering 5-Axis, VMC and HMC multi-pallet machines designed for processing geometrically complex components. The line is exclusively imported in the U.S. by Methods Machine Tools, Inc. (Sudbury, MA).
Kenlee Precision focuses on the custom manufacturing of precision components like this medical assembly part manufactured from 1018 cold rolled steel.
Currently Kenlee has 70 state-of-the-art, turning, vertical and horizontal machining centers including 15 new machines that were added over the last four years, in addition to a new Zeiss Coordinate Measuring Machine. When a new customer need arises, Kenlee often looks to their long standing machine tool partner Methods Machine Tools, for technology expertise and solutions. A large number of Kenlee's machines are from Methods, including machines from various lines - FANUC RoboDrill VMCs, Nakamura-Tome turning center and Matsuura VMCs and HMC.
Critical Capacity
Recently, Kenlee saw a gap in their machine tool line-up. "We were machining quite a bit of aluminum, brass, copper and stainless, and thought we could really fill a niche if we had a smaller, easy-to-operate machine which was able to offer us the capacity we needed. Having enough machines to handle capacity is extremely important to satisfy customers," said Lewis. Kenlee's customers not only demand the highest quality parts, but because lead times are tight, they need their jobs delivered on time and at a competitive cost. Kenlee had been running parts on a standard VMC with no pallet changer.
Lewis continued, "We try not to handle a part more than twice. This improves quality and throughput with a finished part every time the machine tool cycles."
Kenlee contacted their local machine tool distributor of 20 years, MTA Company, Inc. (Ellicott City, MD), who in conjunction with Methods Machine Tools, proposed that a new high performance FEELER vertical machining center would be an excellent option. FEELER VMC's feature extensive engineering by Methods, designed to provide users unsurpassed performance and value.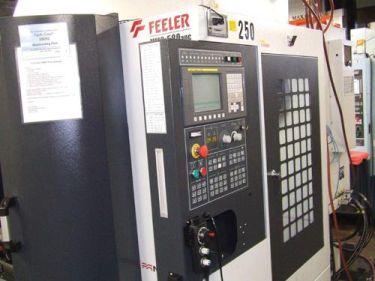 The FEELER VMP 580 APC features a FANUC 0i-MD control.
Lewis said, "When considering the purchase, I was influenced by the fact that Methods has always stood behind us, offering outstanding support and service. Knowing they added their own design and engineering elements to the machines also raised my comfort level. So we took Methods' recommendation and purchased the FEELER VMP 580 APC.
The FEELER VMP 580 APC features a reliable FANUC 0i-MD control with a 15 HP, 10,000 RPM spindle and automatic pallet changer (APC). The machine has linear guideways on X and Y-Axes and a boxway on the Z-Axis. X-Axis travel is 23 inches (580 mm), Y-Axis travel is 16.5 inches (420 mm) and Z-Axis travel is 20 inches (510 mm). The VMP-580 features a 24-tool automatic tool changer in a compact footprint at 115 inches (2,910 mm) x 111 inches (2,820 mm).
Lewis recognized several advantages with the FEELER VMC. "The price point was very attractive. This is good for our profitability," said Lewis. "Also, the smaller footprint optimizes floor space which is always at a premium. In addition, due to Methods' design changes, the controls are easily accessible, making the machine efficient to operate."
"The twin pallet changer configuration eliminates a secondary operation, resulting in cycle times that are at least 30% shorter. We are able to run more jobs, which increases both productivity and profit. We have gained approximately 30% throughput," said Lewis.
The FEELER is well suited for machining the full range of steels including a lot of stainless. Kenlee machines parts including chassis, housings, brackets and many components of assemblies and sub-assemblies for the military, telecommunication and medical markets. Medical accounts for about 60% of Kenlee's work.
For example, one of the parts Kenlee manufactures is a medical part for an assembly. This part is kidney shaped with various contours, 6 1/2 inches long by 2 inches wide, in 1 1/2 inch thick steel. According to Kenlee, FEELER has provided outstanding performance on this job. "The medical part has excellent finish quality on the edges, and the material removal rate is great," said Lewis. "We are working to very close tolerances and the FEELER has proven to achieve plus or minus one thousandths tolerances continually."
Kenlee has been impressed with the new machine. The new VMC has not only filled the gap by adding needed capacity, it has also been tasked with more work. "We have been blown away with the FEELER and are using it in ways we would not have thought possible. Based on the productivity increases we achieved, I would not hesitate to add more FEELER machines to our manufacturing operation," said Lewis.
Want more information? Click below.