Industrial Revolution 4.0: How Smart Apps for Smartphones Could One Day Control Smart Factories
No one can do without the internet. EMO Hannover 2013 will be themed around it too. Under the motto "Intelligence in Production", internet-based applications will be presented that go far beyond existing online ordering options, one-click orders, and networked tele-maintenance. The vision of the brave new internet world, in which entire production lines in smart factories are controlled over a smartphone, is no longer all that unrealistic.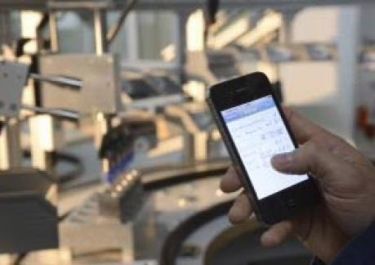 Apps are cutting-edge IT -- with modern-day mobile-phone house-elves, you can nowadays control machines, lines and components from your smartphone. More than 21 million Germans (a good one in four of the total population) are, according to the latest figures from the German Association for Information Technology, using smartphone apps on their mobile phones. On average, each smartphone owner has installed 23 apps, one in seven even has more than 40. There are now apps available for every situational possibility -- all the way through to a pensioner's app that in an emergency shows you the way to the nearest on-duty doctors and pharmacists.
In the estimation of Dr. rer. nat. Volkmar Denner, Board Chairperson responsible for research and advance development, technology coordination, product planning and engineering at Robert Bosch GmbH, "we all have to realize we're facing a paradigm shift, that our business life is going to change fundamentally due to the internet of things and services". Bosch, he says, is ready to meet and master this challenge: "We aim to connect the virtual and physical worlds". It is not easy, however, to plan which applications (such as apps for the iPhone) will prove successful on the market, which means it's vital to adopt an explorative (i.e. research-driven) approach and to retain the requisite adaptability.
According to Prof. Dr.-Ing. Thomas Bauernhansl, Director of the Fraunhofer Institute for Manufacturing Engineering and Automation (IPA), the vital consideration in production operations is "that you provide all the elements involved with intelligence and communication options, meaning intelligent networking of decentralized information carriers and information generators".
The smart factory, he continues, is basically the primary focus of the Fourth Industrial Revolution: "there, all the technologies are used that come from the IT and telecommunication worlds, but also from the mechanical engineering sector." The freedom of the internet, in which everyone can publish everything and use it free of charge, will have to be transferred to the systems used in production operations. Flexible order processing, he says, will ultimately be handled by the orders themselves: "If a malfunction occurs at a machine somewhere, and the order cannot be processed there, then the intelligent order (meaning the intelligent product) that's being manufactured will know whom it can still speak to and will seek out an alternative route in the production operation, without a human having to get involved. And only if the order fails to be punctual, it will trigger an alert, and the operator will have to intervene. This sounds a bit utopian, but it's do-able! Trade fairs like the EMO Hannover 2013 are a superb shop window for showcasing these options, utopian though they still may seem at present," to quote Baumhansl.
Another impediment to an internet of things in the context of the Industry 4.0 hype is the lack of standardization. Harmonized interfaces between CPSs are either non-existent or cannot communicate with each other to optimum effect. Then there are the rising costs of the hardware required: sensor-actuator systems of high complexity are still too expensive to render CPSs cost-efficient. Only after the introduction of communication standards and a clear specification of the mechanical and electronic components in conjunction with a fit-for-purpose software package "will we be able to speak of reliable and fit-for-market CPSs".
At the EMO Hannover 2013, says Dr.-Ing. Jan Kotschenreuther, Vice President Software & Controls at MAG Europe GmbH, Goppingen, "we should expect approaches to what concepts of this kind may look like. Besides the ideas for the apps themselves, we're still seeking field-proven concepts for the App Store. We're talking here about issues like data security, data interchange, access authorizations or business models".
Want more information? Click below.