Stronger and Lighter Laser-Treated Steel the Future for the Automotive Industry?
A new technique for the local heat treatment of high-strength steels softens the material in a limited area, thus increasing the local formability of components. Automakers, for instance, can reduce weight using stronger steels with lower metal thicknesses without impairing the function of the parts.
Automakers in general are looking to reduce weight: every kilogram saved reduces fuel consumption and makes the vehicle more dynamic. To this end, long-standing development work has focused on new materials and new processing techniques that reduce costs and material usage in areas such as the body-in-white. Tailored blanks represented a major advance in this respect, paving the way for sheet metal with locally tailored properties.

A newly developed technique paves the way for material and component-tailored solutions for local laser heat treatment of sheet metals above and beyond softening.
A consortium made up of automakers, steel producers, a toolmaker, a laser manufacturer, and three research institutes has now adopted an entirely new approach. With funding from the German Federal Ministry of Education and Research (BMBF), they have developed a technique for locally softening sheet metal using heat input as part of the LOKWAB project. The aim was to produce local, defined softening of high-strength steels. The newly developed technique now allows the material to be treated using the laser so that it can be deep-drawn much further at the modified points without cracks developing. Galvanized sheet metal can also be treated without impairing corrosion protection.In addition, the heat treatment can also be used on press-hardened components in order to improve joinability using spot welding.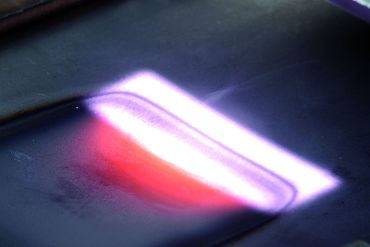 Local heat treatment with rectangular laser beam profile.
Process
Extensive tests and simulations were used to determine optimum process parameters for the laser heat treatment of various steels. A fiber-coupled 10 kW high-power diode laser was used, which projects a rectangular beam with a width of up to 90 mm onto the workpiece using a special optic. Large areas can therefore be softened in a single pass; the zoom optic enables the beam profile to be adjusted. Temperature monitoring in coaxial alignment with the laser beam makes it possible to control the heat treatment.
Application Involving B-Pillar
As part of the tests, locally laser-treated sheet metal was also formed into B-pillars. The heat treatment enabled the ultra-hard steel grade MS-W1200 to be used. In the crash test, this B-pillar proved clearly superior to one made from high-strength steel with the same thickness (CP-W800).
Local laser heat treatment on a B-Pillar.
View of the Process Chain
The newly developed technique paves the way for material and component-tailored solutions for local laser heat treatment of sheet metals above and beyond softening (tempering, re-crystallization, hardening). Graduated properties can also be produced across the sheet metal thickness. In addition to the purely technical development, the commercial aspects of the technique were also analyzed across the entire manufacturing process chain. In the case of small softening areas, the laser technique proved superior to conventional techniques, especially where flexibility is required.
Want more information? Click below.
Fraunhofer Institute for Laser Technology