Market's Largest Laser-Texturing Machine Can Texture Parts Up to 3 x 4 Meters and 18 Tons
With its new LASER 4000 5Ax, GF AgieCharmilles now offers the largest laser-texturing machine on the market. Featuring a completely new mechanical design, this 5-axis machine adds unique and various textures to oversized molds for a wide range of components, including bumpers, instrument panels, door panels, central consoles and airbag covers for the automotive industry and others also working with large components.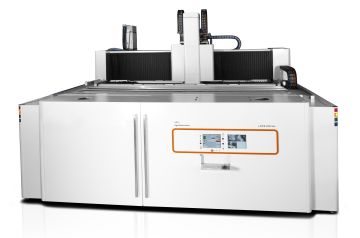 The LASER 4000 5Ax operates in such a way that a large component as big as 3 x 4 meters and as heavy as 18 tons remains stationary on the floor while the machine's axes move around it, expertly texturing on all part sides if needed. Such movement is possible because the machine's fourth and fifth axes are attached to the Z-axis head. Additionally, the LASER 4000 5Ax manages 3D distortion of texture and masters texture direction related to part shape.
Because of its fully digitized process, the LASER 4000 5Ax allows manufacturers to envision a design, preview it onscreen, and perfectly reproduce it on a workpiece. The machine includes on-board machining strategies to ensure optimal machine performance, best material removal rate and accurate reproduction of the intended texture. The machining strategies embedded in the LASER 4000 5Ax can be easily used by designers with little machining experience and machinists with little design background.
The LASER 4000 5Ax is one of five machines, encompassing various models, within GF AgieCharmilles' laser texturing product line. With its laser technology, the company offers a process that is faster, quieter and more repeatable than conventional manual and chemical etching processes. And while chemical etching produces only three to five layers, GF AgieCharmilles' laser technology achieves 30 to 50 layers, allowing for greater creativity in part design across a wide variety of materials, including graphite, aluminum, copper, steel, carbide, brass and ceramics.
Laser texturing also offers pollutant-free operations, producing no fluids, slurry or chips. In fact, a vacuum guarantees clean operations by automatically extracting any dust particles produced during the process.
Want more information? Click below.