Versatile HMC's Capable of Rough and Finish Machining; Reducing Production Time Up to 50%
HELLER Machine Tools' line of MC Series horizontal machining centers are designed to provide the structural stiffness and high torque required for making the deepest cuts in the toughest materials as well as the accuracy to finish the part.
"The capacity of the MC Series machines to make roughing cuts all day long yet finish machine the same workpiece in the same fixture makes the line unique in the world of machining centers," said Vince Trampus, Heller vice president, "and has a major positive impact on the cost of machine ownership in the short and long term."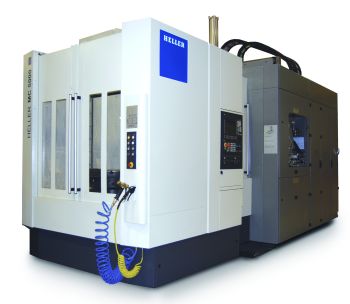 The precision provided by all machine sizes in the MC range is ensured through reduced table deformation and high precision due to internally arranged drives. This provides high productivity and minimal axes positioning times resulting in reductions in machining times between 20 and 50 percent.
There are 7 different size HELLER machining centers, each built on the company's 118-year-old design philosophy, which is to provide the maximum reliability and material cutting versatility capable of rough and finish machining to the tightest production tolerances over a long service life. The MC series is equally well-suited to light-metal machining and heavy-duty machining, which includes many automotive components from suspension to engine blocks and heads.
The versatile MC series can also be equipped with a range of optional extensions, including an out-facing slide with coupling through the center of the spindle for performing NC turning operations.
According to Trampus, "Today's machining center users focus on aspects such as machine construction, pallet magazine, traverse paths, process dependability, high productivity and precision. In these terms, the MC series scores well with a very rigid build, high mechanical accuracy and HELLER's twin-drive in the Zaxis which ensures symmetric force application and free chip fall."
For varying batch sizes and a variable range of parts and materials, the MC series machines are capable of high-speed cutting, heavy cutting, dry or MQL machining at full productivity in series or for parallel processing. Users can specify spindle size and taper, tool magazine and chip disposal, resulting in an attractive price/performance ratio.
A choice of gear-driven spindles for power, speed, high-power, or power/speed provide feed thrusts unparalleled in this range of machining center of 15,000 N in the X and Y axes, 20,000 N in the Z axis; traverse speeds of 60,000 mm/min, and torque of up to 2300 Nm. The high-capacity 630mm pallet changer can handle workpieces to 900mm dia., 1200mm high, weighing up to 1400 kg.
Another significant benefit of the series, especially in terms of automation, is tool management. The MC series is available with a chain-type tool magazine with storage capacities for 54, 80, 160 or 240 tools and a rack-type magazine with more than 400 storage places enabling tool loading parallel to machining. And chip-to-chip time of 4 seconds or less.
Want more information? Click below.