New End Mills Designed to Cut Nickel Alloys, Titanium, and Tough Steels Found in Aerospace Applications
Emuge Corp. has introduced TiNox-Cut, a new series of end mills specifically developed to provide exceptional material removal rate and long tool life when machining today's toughest materials. New Emuge-Franken TiNox-Cut End Mills offer a high performance cutting solution for nickel alloys such as Inconel 718, Nimonic and Waspaloy, Titanium 6Al-4V, and tough steels like Stainless 316 -- materials used extensively in aerospace and other demanding industries.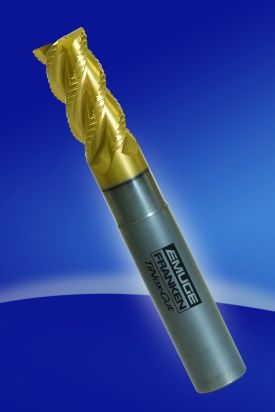 "The need for parts and components machined from these materials is on the rise, but they are very difficult to machine and wear out tools fast," said Mr. Peter Matysiak, President of Emuge Corp. "TiNox has a unique variable flute spacing and a serrated chip breaker profile along the cutting edge that provides unmatched material removal rate and impressive RA values for both roughing and semi-finishing, while producing minimal tool wear," said Matysiak.
TiNox's dynamic flute and proprietary cutting edge design, combined with a high heat-resistant multi-layer TiN / TiAlN coating provides exceedingly long tool life by minimizing friction / vibration and efficiently evacuating shorter chips, which is especially important in tough, long-chipping materials. In addition, the tools are made from a special ultra fine carbide grade to further maximize wear resistance.
TiNox-Cut End Mills are well suited for both roughing and finishing operations. They are available with standard flat ends and optionally with a selection of corner radii. For even more efficient feed rates, metal removal rates and chip evacuation, TiNox-Cut 4-and-5-flute end mills feature internal coolant / lubricant capability.
Offering superior machining repeatability and safety, the new end mills feature a tight, h11 shank tolerance and a notch in the shank for mechanical clamping. Emuge TiNox-Cut End Mills range in diameter from 1/4" to 1" and in metric sizes from 6mm -- 25mm.
Want more information? Click below.
Copyright © 2019 by Nelson Publishing, Inc. All rights reserved. Reproduction Prohibited.
View our terms of use and
privacy policy
::m::