Automotive Parts Manufacturer Cuts Machine Cleaning Time 75% and Saves Over $150,000 Annually
With the help of new equipment, U.S. Tsubaki 's employees are able to clean a machine's sump in two hours rather than eight.
Every metalworking plant faces the problem of how to clean machines thoroughly and effectively, while still trying to minimize the downtime for machine tools.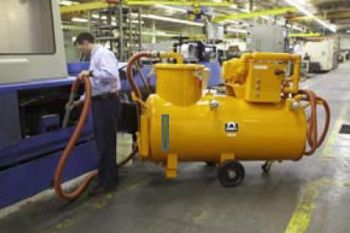 Workers at U.S. Tsubaki now use a push sump cleaner rather than manually remove chips and fines from cutting oil.
U.S. Tsubaki, a producer of precision power transmission parts for OEMs in the automotive industry worldwide, operates a manufacturing facility in Chicopee, Massachusetts to manufacture tensioners. The facility has nine production lines, each with three machining stations. The 27 machines need continual cutting oil recycling to keep out contaminants and fine particulates. The job of cleaning out the machines' sumps fell strictly to manual labor and would take 8-11 hours per machine.
Workers used an air pump for the liquid, then shoveled and scooped out the chips and fines by hand, and finally wiped out the tanks with rags.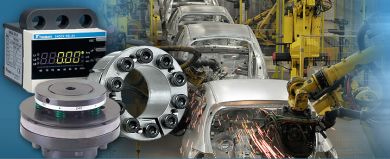 U.S. Tsubaki utilizes 27 machines to manufacture tensioners and other automotive parts.
The company realized there had to be a better way. So U.S. Tsubaki made the decision to purchase an Eriez® Hydroflow® Push Sump Cleaner with a 275-gallon capacity. This versatile, portable cleaner now handles the gritty work of removing chips and fines from cutting oil, saving the company money by re-using the purified cutting oil that keeps the precision machines humming.
During the process of cleaning the machine, the Eriez Sump Cleaner rapidly removes the fluid, sludge and chips from the sump, filters the sludge and chips from the fluid via the reusable integral filter liner, and either returns the filtered fluid to the sump or transports the fluid to the Eriez Recycling System. The polypropylene filter sleeve filters to a nominal 50 microns. If finer filtration is needed, such as in certain grinding applications, then a single-use paper filter sleeve can be inserted into the chip basket. The paper sleeve filters as fine as 20 microns nominal.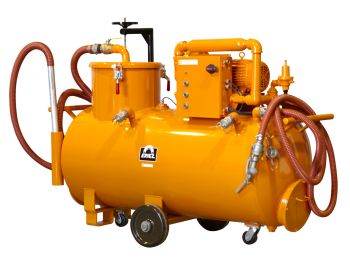 A sump cleaner like this one has saved U.S. Tsubaki over $150,000 a year.
With the Eriez Sump Cleaner, it now takes two hours to do the complete job. Because they re-use the filtered oil at least one time over, which saves 50 percent on oil consumption. By utilizing the Eriez Sump Cleaner, U.S. Tsubaki saves almost $70,000 per year in cutting oil alone. Add in labor savings and reduction in downtime and the total payback is more than $150,000 per year.
Want more information? Click below.