New Fiber Laser Combines Latest Control Technology with High-Speed Drive System and Reduced Running Costs
Mitsubishi's revolutionary new 3015 NX-F Fiber Laser will come standard with a fiber laser oscillator, a z-axis linear drive, head preset auto-focus processing, a 64-bit NC with 15-in. touch screen NC-panel, and more. The stroke on the new NX-F will be 125.9" (3198 mm) by 62.9"(1598 mm) by 4.7" (119 mm), with positioning accuracy of 0.0019/20" (0.05/500 mm). And the rapid traverse rate on the single axis machines will be 4724 in. (120 m) per minute, or 6680 in. (170 m) per minute on simultaneous machines.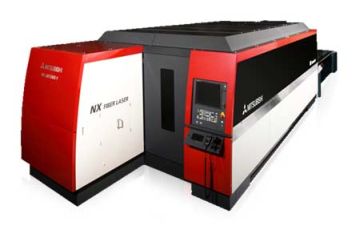 "This isn't the first fiber laser, but we took the time in research and development to make sure that when we entered the market, we had it right," says Bill Isaac, VP of Mitsubishi Laser.
Mitsubishi will unveil the brand new Fiber Laser line at Fabtech 2012, to be held in Las Vegas Nov. 12-14.
The company will also show the 2D eX machine, the most productive and efficient 2D laser machine yet. Replacing former LVP series, eX is the fifth generation in a line of powerful 2D Mitsubishi Lasers. The machine delivers low running costs and eco-friendly features for power and gas consumption, and stable operation for greater productivity. New to the show will be eX model 3015 eX 60XF, featuring a powerful 6000 watt resonator.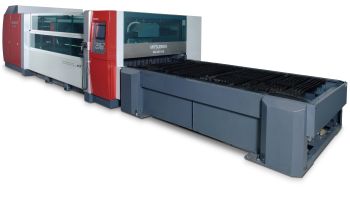 The eX line features an eco mode that cuts running costs by up to 90 percent during standby. Carbon dioxide emissions are reduced by around 30 percent compared to competitor machines. The machine's new compact design provides a small footprint without reducing table size.
Another featured product will be the XL Laser line of large-size laser processing machines designed to deliver exceptional reliability, stability and productivity in thick sheet cutting applications.
Mitsubishi's highly rigid, large-size laser processing machines are equipped with a 45CF-R resonator, achieving high-quality beam, superb accuracy and superior cost-effectiveness. The space-saving design is equipped with a resonator, cooling unit and control unit.
Want more information? Click below.