High Accuracy Lathe Performs Turning, Vertical, Horizontal, and Angled Surface Machining in One Operation
The VTM-1200YB 5-axis vertical multitasking machine enables turning of relatively large, complex parts and process-intensive machining along with 5-axis multitasking to achieve high production efficiency.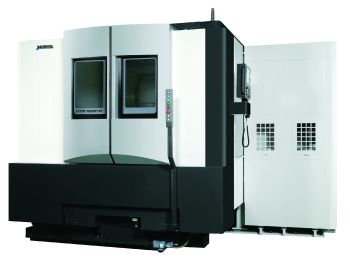 VTM-YB Series five-axis combination lathe/machining centers can perform turning, vertical, horizontal, and angled surface machining in one operation without reorienting the part in the chuck. With operator control of spindle direction in relation to the surface of the work-piece, side cutting with straight end mills can be used to dramatically reduce cutting time compared with point cutting using ball end mills.
Cutting efficiency can be increased significantly and the lifetime of the tooling can be extended, reducing overall production costs. The work spindle is supported at two locations by large diameter roller bearings offering precision control for the production of complex parts. The spindle's geared head generates high torque capable of sustaining the heavy cutting necessary for parts such as large valve bodies.
Using the Thermo-Friendly Concept, high machining accuracy with machining dimensional change over time of less than 20 um is achieved (actual results). Machining capacity is enhanced to outside diameter cutting of 6.5 mm2 and milling removal rate of 1,003 cm3/min (both with S45C). Combining improved travel speed and better operability using collision-free machining and the Collision Avoidance System, the VTM-1200YB contributes to both greater productivity improvements and reductions in cost.
Want more information? Click below.
Copyright © 2019 by Nelson Publishing, Inc. All rights reserved. Reproduction Prohibited.
View our terms of use and
privacy policy
::m::