Machining Fluid Designed for Compacted Graphite Iron Provides 30% Improvement in Tool Life
To address the challenge of machining CGI, Quaker has developed QUAKERCOOL® 7020 CG. This micro-emulsion metalworking fluid excels in heavy-duty machining, grinding and honing operations on Compacted Graphite Iron.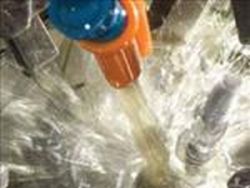 CGI is a material being used in manufacturing more and more, particularly in truck and automotive diesel engine blocks and heads. Compacted graphite iron is much higher in strength and harder than conventional grey or even high-molybdenum iron. This allows engine designers to make lighter weight motors that at the same time, are stronger and more durable. It also makes the machining process much more difficult.
Advanced lubrication technology gives QUAKERCOOL® 7020 CG the versatility to machine CGI. Its versatility also provides added machining qualities from easier to machine grey cast irons and alloyed steels. QUAKERCOOL® 7020 CG can provide improved machinability and reductions in tool wear.
One major machine tool manufacturer was recently building a large comprehensive system to machine heavy truck diesel motors from CGI. In testing conducted on production parts, QUAKERCOOL® 7020 CG gave 30% improvement in tool life against other products. In addition to improving tool life, which will allow greater up-time between tool changes, QUAKERCOOL® 7020 CG may also facilitate increased metal removal rates on CGI, allowing a machine tool manufacturer to quote fewer machines to meet a required production rate.
Benefits:
A unique approach to lubrication that has demonstrated very significant reductions in tool wear in GGI-machining applications.
Forms a tight, very stable micro-emulsion that provides excellent boundary lubrication for high-speed operations while it rejects tramp oil, and reduces carry-off.
Disperses and settles fines and chips effectively.
Low foaming in soft-to-moderate water hardness conditions.
Excellent corrosion protection on cast iron and steel, down to low concentrations.
Resists microbiological growth without biocide tank-side additions.
Rinses clean, leaving no tacky residue.
Want more information? Click below.
Copyright © 2018 by Nelson Publishing, Inc. All rights reserved. Reproduction Prohibited.
View our terms of use and
privacy policy
::m::