New Quill Changing System Combines Traditional Boring Machine with Modern Milling Machine and Reduces Downtime
Soraluce's Floor-Type Milling-Boring Center's modular design makes it remarkably versatile, as it can be equipped with a wide range of optional accessories, and efficiently and precisely customized for any specific customer need. It is the ideal machine for sectors such as the energy sector (wind power, gas, nuclear), shipbuilding, rail and capital goods.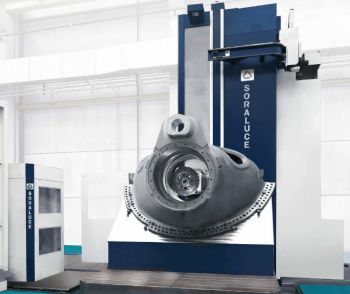 Background Concepts
Rigid and stable design for the highest precision, all Its linear guiding and damping system combined main machine elements made of cast iron; GG30 with a high dynamic driving system yields high (GGG70 for ram when cross travel "Z"= 1900 mm). performance machining results.
Thanks to its flat longitudinal axis design and low profile column connection, the machine's center of gravity is kept very low. This ensures high machine stability and saves on foundation construction costs as the machine can be installed at floor level, improving machine operation and maintenance ergonomics.
Construction Characteristics
The INA linear guiding system with re-circulating cylindrical rollers on each axes (X-Y-Z) and specially developed hydrostatic damping elements guarantees immense stability and high precision. The guiding system incorporates hydrostatic damping pads between the re-circulating cylindrical rollers, which eliminates any vibration during machining processes. This system guarantees high dynamics, minimum maintenance, low heat levels and reduced grease consumption.
Combined Guiding and Damping System
The longitudinal axis is driven by two servomotors, two gearboxes and a double rack and pinion. The vertical and cross axes are driven by preloaded ball screws with double re-circulating nuts. Its heavy duty design and high dynamics provides the optimum in power and cutting speed capability.
The broad range of Soraluce heads (Universal, Orthogonal, Horizontal, Modular Quill, Angular, etc.) are distinguished by their precision and high performance, enabling accurate complex milling, boring, drilling, reaming and taping operations.
Complete design, manufacturing, assembly and verification processes are conducted in-house, under the same roof, by an experienced team of highly skilled designers and assembly engineers.
To ensure high quality heads, the workshop is equipped with state-of-the-art, temperature and humidity controlled, high precision manufacturing machinery and assembly equipment.
Modular Quill Spindle
Soraluce has redefined the concept of milling and boring thanks to its new patented quill changing system that helps combine, in a unique machine, the benefits of traditional boring machines and the advantages of modern milling machines.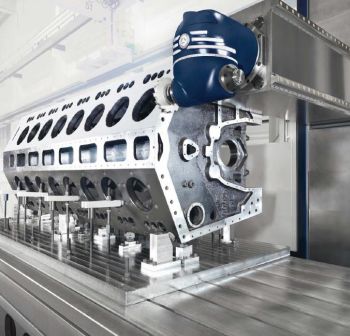 The system automatically changes quill spindles and heads, thus enabling the use of different quill spindles with different diameters and lengths and any component machining heads, such as orthogonal heads, fixed horizontal heads, etc. with a milling power of up to 60 kW.
Compared to traditional quill solutions, the Soraluce exclusive modular quill spindle enables the same distance between quill spindle and milling head to be maintained, enabling 5 side machining using the same set-up without need for additional workpiece positioning a long way from the machine.
In addition, maintenance work can be carried out with other milling heads in use.
Advantages are avoiding down time, improved productivity and maximization of customer benefits.
Automatic Head Changing System
Soraluce has developed an automatic head changing system with adapter flanges.
The system consists of a specially prepared machine ram and a specific head adapter flange. Accurate ram and the head fitting is achieved by hirth couplings, with each milling head clamped by several hydraulic clamping cylinders. Fluid and electricity supplies are provided via quick release couplings.
A fully enclosed pick-up station is provided to protect heads from pollution from the machining processes and workshop environment during head stocking.
Flexibility at Your Disposal
Highly versatile due to its wide range of machine configurations, the machine's travelling column means it can be equipped with different work stations, enabling simultaneous machining and workpiece loading. The FR milling-boring center can incorporate a wide variety of optional features and accessories such as different milling-boring heads, modular quill spindles, automatic head changing systems, automatic tool changing systems, floor plates, angle plates, auxiliary tables, rotary and rotary-travelling tables and many other special options.
Ram Balance
The Dynamic CNC Ram Balance System, patented by Soraluce, takes care of ram geometrical accuracy, straightness and parallelism when crossing vertical and cross axes, and is specially indicated for machines equipped with head changing systems.
-- CNC controlled: The system is driven by a numerically controlled servomotor. Drive action is measured using a direct-measuring scale that checks actual system response. The system is 100% controlled at any time and in any position and with any head.
-- Dynamic: Configurable compensation values. Tables can be positioned anywhere in the work area. Works for any position. Different tables created for different heads. Real time customized compensation.
-- Balance system: The system works in both positive and negative directions. This means that optimum compensation can be achieved for a wide variety of head weights.
Want more information? Click below.