Reshoring Initiative Succeeding in its Mission; 50,000 U.S. Manufacturing Jobs Reshored in the First 18 Months
The Reshoring Initiative celebrated its first year of incorporation on Sept. 17, as well as the achievement of significant national attention and support of its efforts to bring manufacturing jobs back to the United States. The number of companies and organizations that support its mission has more than doubled in the past 18 months.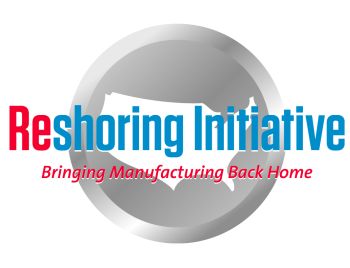 The Reshoring Initiative has 40 sponsors, primarily manufacturing technology companies and manufacturing associations, plus an economic development agency and an insurance company, all dedicated to the same goal: helping manufacturers and suppliers consider the total cost of ownership(TCO), the profit/loss impact of both offshoring and reshoring.
At the heart of the Reshoring Initiative is the proprietary Total Cost of Ownership Estimator™ tool, which helps users determine the total cost of offshoring by accounting for and understanding the relevant offshoring costs. Those costs include inventory-carrying costs, shipping expenses, travel costs to check on suppliers, intellectual property risks and the loss of innovation by separating manufacturing from engineering.
More than 400 registered users are utilizing the estimator, and data are being gathered that provide insight on the value of reshoring. Those data show that:
Of work that has been offshored or is considered for offshoring, 25 percent more work could come back to the United States if companies made decisions using TCO rather than price when making source decisions.
Approximately 50,000 U.S. manufacturing jobs are already being reshored, based on a tabulation of jobs mentioned in the published articles listed in the Reshoring Library.
The universal use of TCO would bring back 500,000 manufacturing jobs. That number would increase as foreign wages rise and the United States improves automation and processes.
The Total Cost of Ownership Estimator tool took center stage earlier this year when Harry Moser, founder of the Reshoring Initiative, attended the White House's Insourcing American Jobs Forum where President Obama asked him to explain what costs American companies often overlook in their sourcing decisions. Since then, the U.S. Department of Commerce has launched websites (www.manufacturing.gov and http://nist.gov/mep/reshoring.cfm) devoted to reshoring and TCO, with links to the Initiative's website and Total Cost of Ownership Estimator tool.
"With the help of our sponsors, the last 18 months have far exceeded my expectations," Moser said. "And while we have spread the word, from meeting with President Obama to providing tools for hundreds of users, the biggest challenge remains: to encourage more large companies to use TCO instead of price for sourcing decisions. We continue to develop tools and resources to support our mission and to reach the ultimate goal of bringing jobs back to the United States."
Want more information? Click below.