New Sandmist Devices Keep Air Crystal Clean and Production Area Free From Slippery Oil
Clean Air America, Inc. has introduced two new Clean Air America ScandMist air filtration systems for capturing and removing oil mist from manufacturing facilities. The Clean Air ScandMist 70D and 100D are compact but powerful and efficient oil mist filtration solutions for any size plant or facility, keeping the air crystal clean in any type of industrial environment.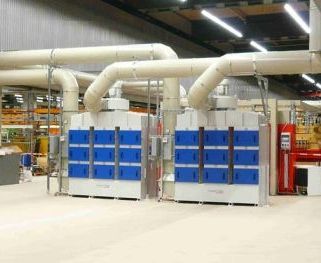 "Oil mist generated by various industrial processes and machinery can make floors dangerously slippery, is not good to breathe, and can collect on machinery, damaging it," said Jorgen Brahm, VP of Clean Air America. "Our new Clean Air America ScandMist devices are small enough to fit anywhere and utilize a true air cleaning methodology that doesn't require ventilation to the outside. Customers can "green" their industrial environment with cleaner air, recycled oil, lower energy requirements, and long-lasting filters."
The new Clean Air ScandMist systems feature fiber bed technology that allows oil mist to condense on the filter fibers where it collects to form micro-droplets that when large enough, drip off the filter and drain into the reservoir for future collection of oil. The filters remain unclogged, giving them an extremely long life. An optional Variable Frequency Drive measures the air speed through the filters, keeping the air speed at peak efficiency for maximum air cleaning with minimum power consumption. An integrated silencer and built in acoustical lining keep the system quiet. Removable filter doors with lift off hinges make changing filters extremely easy and quick.
An optional third filtration stage incorporates a HEPA filter that cleans the air beyond OSHA standards, with 99.95% efficiency at 0.3 microns. The Clean Air ScandMist 70D measures 46"H x 19"D x 27"W, weighs 192 lbs, and performs at 400 Cubic Feet/Minute (CFM). The Clean Air ScandMist 100D is the same width and slightly deeper, measures 72"H, weighs 450 lbs, and has a 600 CFM performance level.
Want more information? Click below.
Copyright © 2018 by Nelson Publishing, Inc. All rights reserved. Reproduction Prohibited.
View our terms of use and
privacy policy
::m::