New 4-Way Bed Precision Lathe Can Machine Long and Thin Workpieces Without Reclamping
Weiler is introducing a completely, newly developed German built 4-way bed precision lathe, the V-series. The release of the V-series makes WEILER a member of an elite group of German manufacturers that offer this type of machine.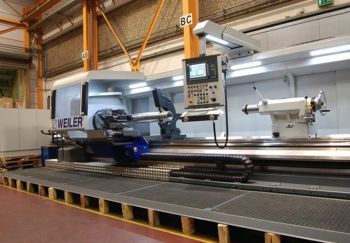 The V-series innovative development is available in two versions featuring automated cycles and digital drive technology with a swing over bed of 940 mm / 1160 mm (37.in /45 in) and swing over cross slide of 590 mm / 810mm (23.22in/ 31.88in). Both the V90 and V110 have been specially developed to machine long and thin workpieces with a weight of up to 8t without needing to reclamp as the slides can overrun the fixed steady rest. The 4-way bed precision lathe takes its name from the four guideways along which the steady rest and slide can be moved.
High Precision and Long-Term Accuracy
The main spindle is available with spindle bores of 165, 262 or 362 mm and is driven through two gear stages with a power output of 45/37 kW (60%/100% duty cycle). The distance between centers can be chosen from 3000 mm to 15000 mm in steps of 1500 mm.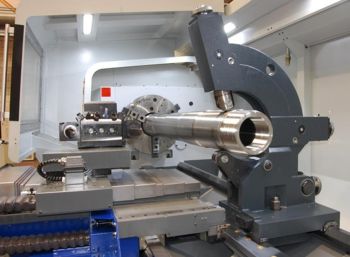 Weiler offers a wide range of suitable traversable steady rests. To ensure that a number of applications are covered, these include manual and hydraulically actuated, self-centering versions. The range of threads that can be cut is also extremely wide: all types of threads can be easily cut; the range extending from 0.5 to 2000 mm per turn.
Large Flexibility
Increased machining flexibility is also provided by the wide variety of tool systems that can be used: from quick-release plates with air and coolant supply up to four station turrets, Weiler offers a number of suitable tool carrier systems. There are also drilling and milling attachments with a Y-axis stroke of up to 200 mm.
The new Weiler models are aimed at a number of different markets: from general machine building to the oil, hydraulics and shipbuilding industries through to the energy sector.
Want more information? Click below.
Copyright © 2019 by Nelson Publishing, Inc. All rights reserved. Reproduction Prohibited.
View our terms of use and
privacy policy
::m::