New Wire Cut EDM Features Oil-Based Dielectric System to Eliminate Corrosion During Long-Run Machining
The new CUT 2000 OilTech wire EDM from GF AgieCharmilles protects workpiece surfaces by allowing manufacturers to use oil as a dielectric fluid in the machining of tungsten carbide tools for powder metallurgy, progressive dies for magnetic lamination of electric motors and transformers, high-speed stamping tools for mass-produced communication technology components, luxury watch parts and much more.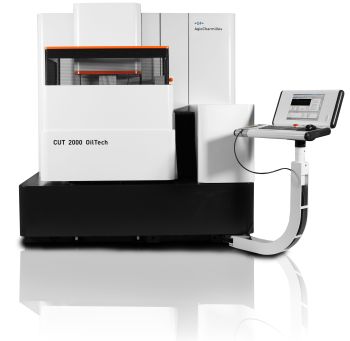 While current generators can limit electro-chemical corrosion of the cutting edge during water-based machining, it's impossible to avoid the loss of cobalt through natural dilution in water. By machining in dielectric oil, manufacturers can immerse their workpieces for long periods of time without having to worry about the effects of corrosion. The oil also enables smaller gap distances between the wire and workpiece to produce smaller internal radii when compared to water-based machining.
The CUT 2000 OilTech is equipped with a"V" series IPG-VO generator with modern design and technology to deliver finer spark gaps for better part geometry and surface finish. As standard, the machine employs wire sizes that range from 0.004" to 0.013" in diameter, enabling it to achieve surface finishes down to Ra 0.05 um in continuous operation and impeccable corner quality.
The machine can also be equipped with an optional Automatic Wire Changer, a unique wire circuit that allows manufacturers to automatically machine with two wire types or diameters for the highest possible efficiency and economy. Furthermore, an exclusive 3D setup system with a touch probe on the Z-axis detects the position of the workpiece and, when not properly aligned, the machine's Vision 5 control automatically adjusts the wire perpendicular to the surface of the workpiece.
CUT 2000 OilTech accommodates submerged workpieces up to 440 lbs. and has X-, Y-and Z-axis travels of 13.77" x 9.84" x 10", respectively, and a U-, V-axis travel of plus/minus 2.7 in.
Want more information? Click below.
Copyright © 2019 by Nelson Publishing, Inc. All rights reserved. Reproduction Prohibited.
View our terms of use and
privacy policy
::m::