Exceptionally Rigid HMC Can Machine Work Pieces Up to 39" High and 1,650 lbs. with Spindle Speed of 10,000 rpm
Methods Machine Tools Inc. offers the KIWA-Japan KH-55 Horizontal Machining Center - the all-new heavy duty HMC has a full range of features designed to accommodate precision machining of a wide variety of large work components. The 50-Taper KH-55 can machine work pieces of up to 35.4" x 39.4" high (900mm x 1000mm) in size, and 1,650 lbs (750 kg) in weight.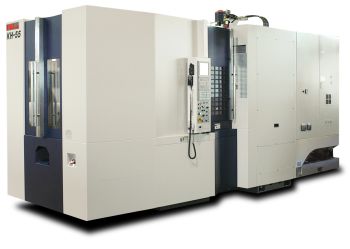 Large component machining requires exceptional machine tool rigidity, which the KH-55 provides with a box-type structure where the bed, column and spindle head are symmetrically designed to uniformly absorb force. The column also has an elevated X-Axis roller guide design which increases rigidity while reducing column weight.
The KIWA KH-55 has high speed features for maximum production efficiency. Spindle speed is 10,000 rpm, with a spindle acceleration time of 2.95 seconds and deceleration at 3.32 seconds. Tool-to-tool and chip-to-chip times are 1.8 and 3.8 seconds, respectively. The KH-55 features a full rotary B-Axis and will also be available with a 15,000 rpm, 40-Taper spindle as an option.
The KH-55 also features the versatile, KIWA exclusive in-the-field expandable tool and pallet technology. Expandability allows shops to upgrade the KH-55 from a 2-pallet machine with 60 tools to a 6-pallet machine with up to 240 tools. The machine can also be equipped with optional 630mm pallets.
New KIWA features include Spindle Thermal Displacement compensation to ensure accuracy and stability, and a Ballscrew Cooling System that regulates oil temperature, minimizing thermal expansion. In addition, a comprehensive tool management program provides information such as tool number, life, status, feed rate etc.
Other specifications include an X-Y-Z stroke of 31.5" x 31.5" x 31.5" (800mm x 800mm x 800mm), a 20" x 20" (500mm x 500mm) pallet size, rapid traverse of 60m/min (2,362 ipm), 47 HP direct drive spindle and an easy-to-use FANUC 31i-A CNC control.
The KH-55 also has unique design features such as a highly efficient Center-Trough Chip evacuation system and an easy-access maintenance system in one convenient location at the rear of the machine.
Want more information? Click below.