Enhanced CNC's Offer High-Speed Smooth TCP; Over 2.5 Times Faster Than Previous Generation
For advanced smooth and accurate simultaneous 5-axis high-speed machining, FANUC's 30i-B/31i-B5 CNCs boast the new High-Speed Smooth TCP with new fairing technology. This drastically reduces cycle times while improving part accuracy and quality.
For complex machining processes, this is the ideal combination of FANUC's legendary reliability and modern high speed 5-axis features. In addition, FANUC's Series 30i-MODEL B controls (this includes 30i-B, 31i-B, 31i-B5, 32i-B & 35i-B) offer a newly enhanced high-speed and large capacity, multi-path PMC offering large scale sequence control with a maximum of 5 concurrent independent ladders. Execution of common instructions is over 2.5 times faster than previous generation, with additional capability of high speed module executing every 1ms. Improved operability is also achieved with the Series 30i-B CNCs using the new hand held operator's unit iPendant for CNC.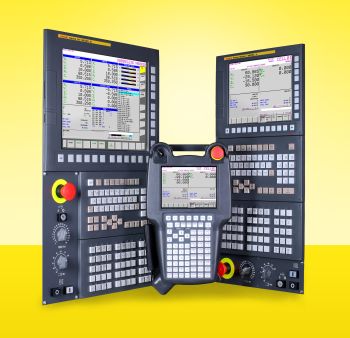 New for general industrial machine applications is FANUC's Power Motion MODEL A CNC. Ideal for a wide range of general industrial machine applications with multi-axis and multi-path functions with a maximum 4 control paths, 32 total control axes, 4 simultaneous control axes - up to 16 axes by PMC axis control function that can be executed independently for each axis. Also optimal for applications with large servo motors -- up to 10 large servo motors in one CNC. The Power Motion i-MODEL A reduces cycle time with a high-speed response function for quick axis start/stop and high-speed execution cycle of PMC. Additionally, the Power Motion MODEL A has a pressure and position control function as well as a function for presses. Applications include: press machines, die cushion, loaders, wire saws and winding machines.
FANUC's new iPendant for CNC is a hand held operator's unit that offers mobile operability for large machine tools. The iPendant keyboard provides for both MDI data operations as well as well as manual machine control operation as integrated by the machine builder. 6.4" color LCD displays the identical screens used by the 8.4" or 10.4" control display, including machine builder's custom screens for operator familiarity. Touch screen display is also available. Three position enabling switch on back can be integrated as required per safety requirements. Built in USB port supports I/O of data to standard USB flash drives.
Want more information? Click below.
Copyright © 2019 by Nelson Publishing, Inc. All rights reserved. Reproduction Prohibited.
View our terms of use and
privacy policy
::m::