New Turning Center Combines Speed, Power, and Convenience While Machining Complex Parts Up to 20" Long
Doosan's new Lynx 220LMSA turning center offers a combination of convenience and performance. With plenty of speed and power, the Lynx enables heavy cuts in tough-to-machine materials, speed to achieve mirror finishes, and rigidity to hold the tightest specifications. Now with a longer bed it can machine parts up to 9.45" diam. by 20.0" long, and with live tooling, and a sub-spindle, the LYNX 220LMSA takes on complex geometries, and finishes them fast.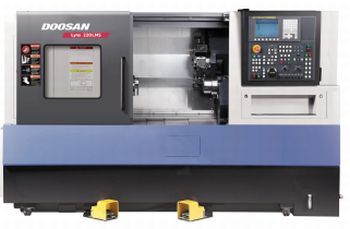 The Lynx 220LMSA's 20 Hp AC spindle motor accelerates quickly, achieving its maximum torque of 93.6 ft-lbs in just seconds. A gear-less configuration requires no maintenance, and eliminates vibration for a higher surface finish, superior precision, and longer tool life. The spindle motor is perfectly aligned with the headstock, and controls both the spindle in 2-axis mode, and full contouring C-axis in the 3-axis mode.
The one-piece bed is strategically ribbed to maximize rigidity, while its fine-grain Meehanite composition absorbs vibration and helps dissipate heat. A 30o slant angle maintains a short and constant distance from tool tip to guideway, eliminating deformation under heavy loads. The angle offers easy accessibility to the chuck, turret and spindle, and also provides a more efficient flow of chips and coolant to the chip bin.
High precision, linear motion guideways are widely spaced for superior stability, and enable rapid traverses of 1,181 IPM on the X-axis and 1,417 IPM on the Z. A four-row, circular-arc configuration supports the same load capacity in all directions. High precision ball screws are centered between the guideways and directly mounted to the AC servo motors, eliminating backlash from intermediate gears or belts. A torque limiter clutch senses abnormal loads and immediately reverses the servo motor and stops the axis movement. Repeatability along the X-axis is +/-0.00008" and +/-0.00012" along the Z.
The 24 position turret accepts live, BMT 45P tooling at each of its 12 stations. A 5 Hp rotating tool spindle motor generates speeds up to 6,000 rpm and up to 17.3 ft-lbs low-end torque. The tool selection system is bi-directional, and indexes station-to-station in 0.15 seconds. Turret index repeatability is +/-0.0005 degree.
Automatic forced lubrication, with a 100 hr. lubricant reservoir, is delivered to all guideways and ball screws through non-clogging, maintenance-free pistons. A 1.2 Hp centrifugal pump delivers coolant through the turret to ball nozzles at each turret station.
Want more information? Click below.