Mazak Announces Major Expansion of Kentucky Plant; Increased Storage Allows for Same-Say Delivery on 97% of All Orders
Mazak Corporation has announced that it will significantly expand the company's North American manufacturing plant in Florence, Kentucky. This expansion will allow for increased production and support of new and additional Mazak machine models in Kentucky, and increase the facility's potential production capacity to 200 machines per month to meet surging customer demands. Completion of the expansion is set for the Fall of 2013, and Mazak will host a special commemoration event at that time.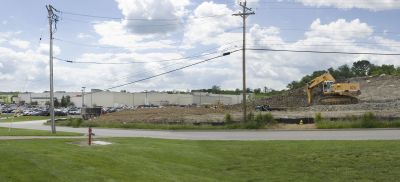 Coinciding with the growth of its production facility, Mazak is bolstering its customer service and support offerings with expansions to its National Technology Center & Center for Multi-Tasking and Manufacturing Excellence and North American Parts Center. Combined, the three significant expansions will add over 200,000 square-feet to Mazak's Kentucky manufacturing campus, increasing its total floor space to 800,000square-feet and positioning it as one of the largest machine tool factories in the country.
Mazak continuously invests in its North American operations and has expanded its Kentucky campus 15 times since the plant opened in 1974, each time increasing production capacity. The 2012 expansions will allow Mazak to quickly and effectively fulfill customers' evolving needs for advanced machine tool technology and applications support as U.S. manufacturing continues to grow in the energy, aerospace, construction and agriculture equipment, automotive and medical industries. Additionally, Mazak will further increase capacity to export machines worldwide.
As one stage of the manufacturing facility expansion, existing shop production offices currently housed within the plant will move to a new added area, which will create a spacious center aisle within the manufacturing building. The larger floor space will allow for the installation of new additional manufacturing equipment, including a highly advanced manufacturing cell that is unique to the industry and produced exclusively by Mazak.
The new cell will incorporate Mazak's modular PALLETECH system, which allows dissimilar machine tools to be integrated into the same manufacturing cell. To produce whole families of components for Mazak's new larger machine models, the cell will include a Kentucky-built Mazak ORBITEC 20 model Large Part Machining Center, two Mazak Horizontal Center Nexus Machining Centers and a full 5-axis INTEGREX e1060V Vertical Machining Center.
Increase in Parts Support
Mazak's expansion of its North American Parts Center will increase that facility's storage capacity by 25 percent. Two new fully automated vertical lift module storage systems will boost small parts capacity by 5,600 parts, and Mazak is replacing an existing rack system with a new one that will provide 286 more pallets of large part storage. In total, the expansion will allow the Mazak Parts Center to stock over 50,000unique part numbers – one of the industry's largest inventories of spare parts – valued at more than $65 million and available for immediate same-day delivery for 97 percent of all orders.
Want more information? Click below.