Machine and Grinding Coolants Eliminate Sump-Side Biocides and Enhance Lubricity
International Chemical Company has introduced the 7900 Series of Machine and Grinding Coolants. International Compound #7950 is a full-synthetic meeting all demands. This coolant has been engineered with bio-stable additives that eliminate the added cost and labor of sump-side biocides, fungicides and defoamers. International Compound #7951 is a semi-synthetic coolant which utilizes the very same platform, but with 7% of a hydro-treated, premium naphthenic oil providing enhanced lubricity, particularly in tapping operations and those incorporating specific grades of aluminum.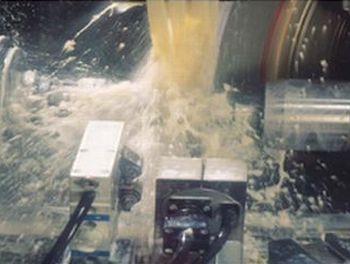 The 7900 Series responds to the need for a coolant providing improved aluminum lubricity without sacrificing performance on ferrous metals; true multi-metal capabilities. Of near-equal importance has been the need for a bio-resistant formulation that does not rely on heavy concentrations of biocides and fungicides. Effective tramp oil rejection is necessary in order to maintain consistently high levels of performance in the presence of lubricant contaminants while minimizing smoke and mist. And finally, and perhaps the most elusive, this coolant fulfills the ultimate desire to develop a fully-synthetic coolant with the performance characteristics of soluble oils.
Want more information? Click below.
Copyright © 2019 by Nelson Publishing, Inc. All rights reserved. Reproduction Prohibited.
View our terms of use and
privacy policy
::m::